What a Wonderful Life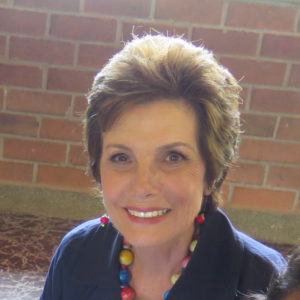 Below you will see my official biography. Unofficially, I wanted to say that joining the Peace Corps at 21, right out of Berkeley, having a school named for me in Medellin, Colombia and then finding journalism as a career–quite by accident–have given me a first class ticket to see the world, to experience history and to be where the action is. I feel blessed to have had faith and a loving and supportive family and friends. So far, it's been a wonderful life.
Bio
Maureen Orth is an award winning journalist, a Special Correspondent for Vanity Fair Magazine, and the founder of the Marina Orth Foundation which promotes advanced learning in technology, English and leadership for over 8,000 students in Colombia.
Orth began her journalism career as one of the first woman writers at Newsweek in 1972, where she was the pop music writer, the entertainment and lifestyle editor and wrote seven cover stories on such music icons as Bob Dylan, Stevie Wonder and Bruce Springsteen. Among the heads of state she has interviewed are Angela Merkel, Vladimir Putin, Margaret Thatcher, Argentine President Carlos Menem, Irish President Mary Robinson and the First Lady of France, Carla Bruni. Over a twelve year period (1994-2006) she made headlines writing five investigative pieces on Michael Jackson. She received a 2011 Front Page Award for her article on the fight over designer Oleg Cassini's will and a national magazine award nomination for her chronicle of the zigzagging career of Arianna Huffington. Her Vanity Fair piece, in 2012, on Tom Cruise and Scientology was a best seller and went viral on the Internet. Her December, 2015, cover story on the Virgin Mary, the World's Most Powerful Woman, was a best selling cover for National Geographic Magazine in 2015.
Orth's investigative story highlighting the role of Afghanistan's illegal opium trade in funding terrorism written shortly after 9/11, has been lauded by the Office of Drug Control Policy. In 2008, she interviewed five hostages of FARC guerrillas who were held in the Colombian jungle and rescued by the Colombian military. Orth has also written for The New York Times, Washington Post, Wall Street Journal and The Los Angeles Times. Orth has been a contributing editor at Vogue, a network correspondent for NBC News, a senior editor for New York and New West magazines and a columnist for New York Woman.  She has published two books, the best selling Vulgar Favors about the murder of Gianni Versace, and The Importance of Being Famous, Behind the Scenes of the Celebrity Industrial Complex. Season 3 of FX's Emmy award winning series, American Crime Story, will consist of 10 episodes based on Maureen's book, Vulgar Favors.
After first helping build her namesake public school "Escuela Marina Orth" as a Peace Corps volunteer, she founded two non-profit foundations: the Marina Orth Foundation, a 501c3, in the United States and the Fundacion Marina Orth in Colombia. Today the Foundation serves eight schools, and each primary school student has his or her own laptop through the One Laptop Per Child program. The schools place an emphasis on technology, with intensive programs in English language and leadership. They have been lauded internationally for their sustainable model, as examples of public-private partnership, and as proof of how far poor communities can advance with targeted assistance. In addition, the foundation partners with Microsoft and local institutions on, SparkTIC, a program that teaches information technology by offering various free courses for young people.  In September, 2015, Colombian President Juan Manuel Santos awarded Maureen the Order of San Carlos, Colombia's highest civilian honor for outstanding service to the country.
Orth, who is fluent in Spanish, travels frequently to Colombia has also pioneered programs for former Peace Corps volunteers to serve once again in Colombia for short periods of time.  In April, 2015, Orth received the McCall-Pierpaoli Humanitarian Award from Refugees International, in recognition of her inspiring and sustained commitment to the education and success of the youth of Colombia.
In other community work, Orth helped begin an intergenerational residence for homeless mothers in New York City and serves on the Advisory  Board of the College of Letters and Science, University of California, Berkeley, and is currently a Trustee of the University of California, Berkeley Foundation. In 2006, she received the Alumnae Achievement Award of the Kappa Kappa Gamma Fraternity. She also served as a producer of www.peacecorpspostcards.com, an interactive website created for the 50th anniversary of the Peace Corps, that highlights Peace Corps volunteers in action today and former volunteers for whom the Peace Corps has profoundly influenced their lives.
Orth received a BA in Political Science at UC Berkeley, and a Masters in Journalism and documentary film at UCLA. Maureen Orth lives in Washington, D.C. Her late husband was Tim Russert, the Washington bureau chief of NBC News and moderator of Meet the Press. Their son is Luke Russert.