Vanity Fair — January, 2015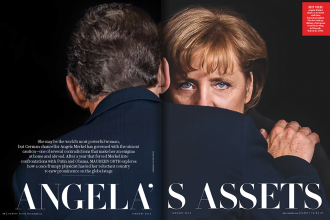 As the old Market Church bells tolled in Hannover last October 3 on German Unity Day, commemorating Germany's re-unification, Angela Merkel walked briskly over the cobblestones and paused at the entryway of the church to greet a few members of a children's choir, dressed untraditionally in red sweatshirts and black pants. She herself was in her chancellor-of-Germany uniform: a brightly colored jacket, simple necklace, black pants, and low heels. She had TV pancake makeup on, but her sensible-matron look—cropped, softly colored blond hair, little lipstick—is always carefully calibrated to appear as if she were wearing no makeup at all. Only a couple of security guards could be seen anywhere in the church; there was no fanfare like the playing of "Hail to the Chief," and, going up the aisle, she did not pause to shake hands with any of the congregation of 1,200 religious leaders, dignitaries, and diplomats. To think that only 25 years ago Angela Merkel was a divorced 35-year-old East German physicist specializing in quantum chemistry, who was not allowed to set foot in West Berlin and had never uttered a political opinion in public, was a striking affirmation of both the ability of Germany to recover and her own ability to succeed.
After nine years of her rule, however, many Germans still see her as from the East, not really one of them. They understand that as Merkel plays an ever enlarging role in the world—going head-to-head with Putin, charming China, exasperating and infuriating her European Union partners with her unyielding demands—she, who wants nothing to do with being seen as a "female" leader, has become The Man striding across the global stage. But, even so, Germans seem puzzled by Angela Merkel.
"She came as an outsider and she stayed an outsider," Ines Pohl, editor of the Berlin alternative daily, Die Tageszeitung, commonly known as Taz, told me. "She's spooky, because how can she manage all these things? She's not really a woman you can love—admire and be proud of, yes. But you always feel her killer instinct."
"She governs by silence," says Dirk Kurbjuweit of Der Spiegel, who wrote a 2009 biography of Merkel. "It's her biggest advantage and disadvantage. She never says something fast. She waits and waits to see where the train is going and then she jumps on the train. Part of this she learned in the G.D.R. [Communist East Germany]. She knew she had to watch her words—there's nobody better at [vague] words than Angela Merkel."
She is often referred to as the world's most powerful woman, although those in Merkel's immediate circle will fix you with looks of utter disdain for even bringing up such a concept. "That's done for media lists—it has no meaning," an official close to her told me. In fact, 25 years after the fall of the Berlin Wall, Germans instinctively recoil at the idea of being powerful because that presumes responsibility on a global scale that they do not yet seem ready to take. The older generation still remembers the ravages of Hitler and the Third Reich, and the younger generation has grown up under the defense umbrella of the U.S. and NATO, which has been in place for nearly 70 years.
"Germans are just coming out of a phase where they didn't see the world the way it was—now they are half in and half out," former U.S. ambassador to Germany John Kornblum, who has lived in Germany for more than 40 years, told me. "Merkel is very smart and she is trying to manage these illusions while not losing elections."
In Germany's parliamentary system, Merkel is head of the center-right Christian Democratic Union party (C.D.U.). A year into her third term, she governs in a grand coalition with the center-left Social Democratic Party (S.P.D.), many of whose programs she has appropriated as her own, outflanking them at every turn and leaving little to debate. "We are a democracy," Kurbjuweit says. "Government needs fights and arguments. We have none anymore." Der Spiegel recently revealed that between 2009 and 2013 Merkel commissioned 600 secret public-opinion polls on the German electorate's feelings. These are what often guide her actions.
Merkel has the added advantage that her predecessor, Gerhard Schröder, instituted a number of unpopular structural reforms of the welfare state—giving management more leeway in laying off employees and streamlining various government benefits—that probably cost Schröder the 2005 election that saw Merkel come to power. Ironically, these reforms now allow Merkel to lecture other E.U. countries about their structural lassitude: the E.U. has only 7 percent of the world's population but 50 percent of the world's social spending. "All the reforms she has demanded from Greece, Italy, and Spain, she would never, ever, ever ask the German people to do, not remotely," says Mariam Lau, another Merkel biographer, who is a political correspondent for Die Zeit. "I asked her, 'How do you imagine the German voter out there?' She always said, 'People are afraid—the economy might not hold, their jobs might not be there.' She thinks of her voters as risk-averse, anxious, and nervous."
Two recent polls illuminate this. In one, 60 percent of the German people said that Germany should continue to exercise restraint in foreign policy. In another, 43 percent said if they ever had to buy anything on credit they'd be embarrassed.
"She's very popular among the German people, but she doesn't appreciate the German people so much. She doesn't have much trust in them," says another biographer, Ralph Bollmann, of Frankfurter Allgemeine Zeitung, the leading conservative daily. "She had an enthusiastic image of the state of West Germany, that the people were very dynamic there, were oriented to compete; it was a long and hard process to learn that Germans are not like that." According to Bollmann, the chancellor treats the German electorate—which recently gave Merkel a 74 percent approval rating—"as if they were children." Her nickname in Germany is Mutti, or Mommy. (A sticker on a litter can outside my Berlin hotel said, "Be careful. Mutti is watching you.")
Thus, her mantras: There are no problems, but rather "tasks" to be resolved using the scientific method of imagining every possible outcome. Take small steps. Explain very little. "For me, it is always important that I go through all the possible options for a decision," Merkel said in a TV interview last summer. The process is rigorous. Merkel, adept at rapid texting, sits in Germany's Parliament, the Bundestag, say observers, and frequently texts to an exclusive network of informal advisers who feed her information during the proceedings. (Her tight inner circle is led by two women, known as the "girls' camp.") After meticulously making a decision, Merkel then must decide how much "reality" she can spoon out at a time to her ever wary country.
After the Unity Day church ceremony, the diplomats and religious heads boarded buses to Hannover's Neues Rathaus (New City Hall) to watch a nationally televised commemoration devoted to diversity and the voices of immigrants—a hot topic, since a few days previously smartphone pictures and videos had emerged of two asylum seekers who were abused in a German refugee center. Merkel's speech was far more direct than usual, observers told me. I thought it might have even been stirring had she not raced through its delivery in a monotone, but it sounded as if she was laying the groundwork for Germany to become more involved in the world.
Barely looking up from the page and not using a teleprompter, Merkel said the threat of terrorism was "a challenge to the entire world—not just the U.S.A., not just the Arab states of the region," and the battle against it was in "Germany's interest. Jihadists threaten our security here as well. That is why we take up our responsibility, together with our partners and allies." Merkel mentioned that the German military is involved in 17 different international missions, including humanitarian. To an American audience used to exalted talk of making the world safe for democracy and global leadership, the speech would have sounded like complete boilerplate, but to the Merkel tea-leaf readers at the diplomatic reception afterward, there was a definite buzz in the air, as if the chancellor had just given Germany the go-ahead to wake up—slowly, cautiously, meticulously—after seven decades of slumber.
"Did you just hear what I heard?" a high-ranking staff member of the German government asked the current U.S. ambassador, John Emerson. "The times they are a-changing."
In her Unity Day speech Merkel had quoted a German newspaper calling 2014 "a year of pestilence, war, and terror." Indeed, the past year has hit Merkel like a ton of bricks. For someone who prefers to rule by baby bites, Merkel has had a great deal on her plate.
By the time she had won her third term, in September 2013, Merkel had already stubbornly maneuvered the euro crisis to Germany's will, demanding, in exchange for not overly generous bailouts, painful structural reforms of the spendthrift South—Greece, Portugal, Spain, Italy—and Ireland. She made few friends along the way. The Greeks even waved placards of her with a Hitler mustache. But the German economy, the richest in the Eurozone, seemed to be purring, if not exactly roaring. During her 2013 campaign, Merkel said that by 2015 Germany would have a balanced budget—"black zeros"—for the first time since 1969, and even today she still insists she will not back down from that pledge; she will not go into deficit spending to stimulate the German economy despite two consecutive flat quarters of growth in 2014 and ominous warnings of recession and stagnation in Europe. Germany's recalcitrance with regard to stimulating its own economy has been a continuing thorn in the side—if not a source of outright rage—to markets worldwide.
On the security front, when the Iraq war began, in 2003, Germany refused to be part of the Coalition of the Willing. It also markedly abstained from voting in the U.N. Security Council to join the U.S. in its late bid to intervene in Libya in 2011. It did, however, send 3,000 troops to Afghanistan, where about 800 will remain. For years, though, the euro crisis, with Merkel ultimately calling the shots for all 28 member nations, was the major international story for Germany: America's relationship with Germany had shifted from being a security-based relationship to a largely economic one.
But 2014, the year Merkel turned 60, changed all that. It brought the crisis in Ukraine, which saw Merkel—not Barack Obama—become the point person in the transatlantic alliance for dealing with Putin; the continued diplomatic fallout from the National Security Agency's infamous tapping of Merkel's cell phone, followed by the revelation that the C.I.A. was attempting to recruit spies in the German government; and the war in Gaza, which sparked incidents of German anti-Semitism, causing Merkel to send police to guard synagogues. By early fall Germany had to contend with the news that an estimated 500 isis jihadists had grown up in Germany. For the first time in its postwar history, Germany pledged to send weapons to a foreign country, in this case to Kurdistan in order to help the Kurds fight isis on the Syrian border.
Merkel's Unity Day speech gave voice to these examples of Germany's broadening engagement all over the world. But she omitted the embarrassing fact that the first shipment of weapons—symbols of the country's willingness to demonstrate its military preparedness and to take on greater challenges—had been delayed when the military plane scheduled to transport it broke down, leading to further reports describing the "shocking state of disrepair of Germany's military hardware."
Back in the G.D.R.
Twenty-five years ago, when the Berlin Wall fell, on November 9, 1989, Merkel took her regular Thursday-night sauna. She did not immediately accompany the elated throngs of East Germans tearing down the wall and breaking through. "When I came back out with my sauna bag," Merkel recently told a group of high-school students in Frankfurt, "I saw how people were running along the street. What happened then I will never forget; it was perhaps half past 10 or 11 at night—I just started following the crowd. Grandparents were dragging their grandchildren, and the grandchildren did not even know what was happening to them." She and a small group landed in a nearby apartment on the other side of the wall. After phoning an aunt who lived in West Germany and drinking one beer—"I remember it came in a can which was not familiar to me"—she called it a night, even though it was such an historic one. "I had to work again early the next morning and was an orderly person," Merkel explained.
Merkel was also an insatiably curious person and a secretly avid follower of West German politics. She often fantasized about the West. She and her mother, Herlind Kasner, had a pact that if they could ever freely travel to West Berlin they would go to the famous Kempinski hotel and eat oysters. "Back then I knew exactly what I was going to do at 60—go to the police station here in the West. That's where you gave them your G.D.R. passport, get a West German one, and then you could travel to America. That was my clear plan. But then it all came to pass a little earlier."
Angela Merkel's father, Horst Kasner (nicknamed "Red" for his political beliefs), raised his and Herlind's three children to be very tight-lipped. "Her father frequently said, 'Don't tell your colleagues or your teachers at school what is spoken at our table,' " says Dirk Kurbjuweit. A Lutheran minister with lifelong anti-capitalist views, Kasner had brought his wife and the two-year-old Angela from the West to live in East Germany. "He was a striking character, very opinionated but also open-minded," says his longtime neighbor Werner Foth, who taught English at the high school Angela graduated from in 1972 before heading to Leipzig University to study physics, eventually earning a doctorate in 1978. "He loved discussions and arguing." Kasner was the head of a seminary that trained ministers to be administrators and also educated 200 mentally and physically handicapped people who boarded at Waldhof, the compound where Angela grew up, outside the small rural town of Templin, 44 miles north of Berlin. She has a younger brother, Marcus, and sister, Irene, the baby of the family. Her widowed mother, now 86, still lives in Templin and gives adult English classes; she was not allowed to teach under the Communists.
Templin today is picturesque and immaculately kept, with large pieces of the original city walls, constructed in the year 1300, still intact. Only a few unrestored houses suggest how dreary and ugly it must have been during the 41 years Templin was part of East Germany and everyone was constantly looking over his or her shoulder in fear of the regime and its henchmen, the Stasi. In addition, thousands of the Soviet Union's Red Army soldiers were stationed at a nearby base. Religious families like the Kasners were automatically suspect under an atheistic government, yet Angela's intellectual father was determined his three children should have university educations. That was not going to be easy unless one got along with those in power.
"Kasner made his arrangements with the state so that his children could get ahead," charges Ulrich Schöneich, the former mayor of Templin. Schöneich was also the child of a minister, but he was not allowed to attend a pre-college high school, as Angela and her brother were. According to Schöneich and other sources, Angela joined the official Communist youth organization Free German Youth. Marcus, at age 14, went as far as to undergo the Jugendweihe("youth consecration ceremony"), a kind of Communist Bar Mitzvah meant to be the "atheist replacement" of Lutheran confirmation, an act that, Schöneich said, shocked their religious community. Angela—well liked for helping other students—and Marcus both got straight A's. "She could do everything but gym and singing," Wolf Donath, her math teacher for four years and principal of the high school, told me.
Merkel's notorious caution had already manifested itself. During swimming class one day, she stood at the edge of the high diving board at the Templin pool looking down for 45 minutes, until just before the class bell rang. Then she finally took the plunge. That hesitation was not unlike her waiting, in 2008, until 15 minutes before the markets opened in Tokyo to rescue an ailing German bank in order to avoid a domino effect that could have been catastrophic to the German economy.
After the collapse of the East German regime, in 1989, Merkel joined one of the political civic groups forming in the East, Democratic Awakening, then volunteered for the campaign of Lothar de Maizière, who became the G.D.R.'s only democratically elected prime minister, in 1990. After college, Merkel had been the secretary for agitprop in the Free German Youth, a post she claims was basically about organizing events. At any rate, she soon became de Maizière's deputy government spokeswoman. After de Maizière signed the unification treaty, on May 18, 1990, which would put Helmut Kohl—who had served since 1982 as West Germany's chancellor—in charge of the entire country, he joined Kohl's right-of-center Christian Democratic Union and took Merkel with him. De Maizière was soon forced to resign from the C.D.U., after reports surfaced that he had been a Stasi informer.
In the conservative C.D.U., Merkel was certainly an outlier. She had abruptly divorced her first husband—a fellow physics student, Ulrich Merkel—in 1982, after five years of marriage. She became involved with another scientist, Joachim Sauer, the father of two sons, who got a divorce from his wife of 16 years. The C.D.U. was heavily Catholic, and many of its members expected women to stay home and care for the kids; they often considered women who worked as Rabenmütter, after the female raven, who abandons her chicks in the nest, and they frowned on cohabitation before marriage. Nevertheless, in 1990, the C.D.U. found a safe seat in the Bundestag for the divorced, childless, Lutheran, East German Merkel, and she holds it to this day. Back then, old-school pol Kohl, big and effusive, famously referred to Merkel as mein Mädchen, "my girl." It didn't take much to notice her brilliance. It was the intensity of her ambition these men later found surprising.
Thanks to Kohl's patronage, Merkel rose through the C.D.U. ranks. Kohl appointed her minister of women and youth in 1991, after taking her aside at a reception and asking her if she got along with women. Recently released confidential tapes of Kohl reveal his saying that in the beginning Merkel "couldn't eat properly with a knife or fork" and "loitered around" state dinners. Nevertheless, Kohl brought her to the United States, where she got to meet her girlhood hero, Ronald Reagan. As an East German, Merkel had loved his tough talk on the Soviet Union. An American official who got to know her well during that time found her to be warm, engaging, and intensely curious about America. "She wanted to know everything about NATO, its dual tracking system, U.S. relations with the U.S.S.R. She was very friendly; she basically knew there was a gap in her education." He described her as a woman "just unrelenting in her search for information about subjects she knew were important for her and her future."
One subject, however, that did not engage her then—or now—was feminism. The taken-for-granted tradition of women working in East Germany formed much of her thinking. Rita Süssmuth, the grande dame of the C.D.U., a pioneering feminist, and the second female president of the Bundestag, preceded Merkel as minister for women and youth. "She had big problems with the feminist movement; she believed she was already emancipated by her studies," Süssmuth told me. According to Stefan Kornelius, a biographer, "She never wanted to be minister for women. She doesn't believe in being seen as a woman." Another of her nicknames in Germany is "Das Merkel," the "das" implying gender neutrality.
Merkel's next post was minister for the environment, nature conservation, and nuclear safety. In 1995 she led the U.N. climate conference in Berlin that produced an agreement on greenhouse-gas emissions, still a pretty big deal. She was elected secretary-general of the Christian Democrats in November 1998, after Gerhard Schröder, of the S.P.D., had been elected chancellor in October. In December, she married Sauer but was so nonchalant about it that she called to tell her parents the next day. Then das Mädchen roared.
In late 1999, without warning, a letter written by Merkel appeared in the Frankfurter Allgemeine Zeitung saying it was time for the party to move on without her political patron and mentor, Helmut Kohl. After he had been voted out, Kohl found himself mired in a scandal about C.D.U. finances and refused to name the donors involved. (He was not accused of using any of the money for himself.) Many in the German media characterized Merkel's move as a cold act of political patricide.
Kohl's chosen successor as party chief, Wolfgang Schäuble (now Merkel's finance minister), also got caught up in the scandal and had to resign. The way was cleared for her to become party chairwoman in April of 2000. What was left of the C.D.U.'s old-boy network was stunned. "They began to fight against this rising star, Angela, but she got rid of them," says Sabine Rau, of ARD, Germany's version of the BBC. With the exception of Schäuble, she says, "not one of them today is in a party or in government. None survived."
"I was there in Essen when she was elected head of the party, and I walked by a line of these men and I watched their faces. Nobody was delighted or happy," Dirk Kurbjuweit says. "They thought, O.K., Angie, two years for you to sweep away this Kohl mess and then one of us will do the real job. I thought this as well." But, Kurbjuweit says, "because they were all rivals to one another, they could never agree on whom to replace her with. That was their mistake.Then the job was easy; she could take one after another out of the game."
In 2002, despite being the C.D.U.'s leader in the Bundestag, Merkel decided not to run for chancellor; the C.D.U. joined with the right-wing Christian Social Union to back Edmund Stoiber, who lost. Schröder—who had made opposing a potential American intervention in Iraq a major campaign issue—stayed in office. But Merkel was in position to be the next C.D.U. nominee. In February 2003, in the run-up to the U.S.-led war in Iraq, Merkel wrote an op-ed in The Washington Post titled "Schröder Doesn't Speak for All Germans." She openly criticized Schröder for using the issue as a wedge, said the threat from Saddam Hussein was real, and insisted that Europe should work in unity with the United States. The Iraq war was deeply unpopular in Germany, but she was staking out her turf. In the 2005 election, Merkel and the C.D.U. ran on a conservative, free-market platform, while Schröder attacked evil capitalism. Neither party won a clear majority. There was going to be a coalition government, and it was not immediately clear who the next chancellor of Germany would be.
Germany has a curious political tradition called "the elephant round." After the polls close on Election Night, the major candidates appear together on television. Schröder took the opportunity to lay into Merkel, shouting at her that she would never be able to form a coalition with his S.P.D. party, and she would never be chancellor. Merkel was very passive in her responses. "I was there that night at party headquarters and she was in a visible state of shock," says Stefan Theil, Newsweek bureau chief at the time. If there was a moment for her opposition in the C.D.U. to take her out, this was it.
As it happened, a feeble attempt was made inside the party to depose her, but no one coalesced around another candidate, and in the end the S.P.D. caved. It formed a grand coalition with the C.D.U.: Schröder was out and Merkel had squeaked in. Says John Kornblum, "She has been mashed potatoes ever since." Bland, safe, predictable.
But not exactly. As nine years of Merkel leadership have shown, when the wind or the polls blow a certain way and she can be convinced by facts, the methodical Merkel can turn on a dime. For instance, after realizing how frightened the German public was of nuclear energy after the 2011 Fukushima disaster, and in anticipation of regional elections, she suddenly backed a policy in which Germany, a country that at the time used nuclear power for 17.7 percent of its electricity needs, would eschew all nuclear energy by 2022.
She debated over a weekend with her minister of the environment, Norbert Röttgen, and made a final decision on Monday while riding an elevator with him. In 2012 Merkel fired Röttgen from his ministerial post after he failed to win state elections for the C.D.U. He made no public comment about being her latest male victim and is now chairman of the Committee on Foreign Affairs in the Bundestag, ostensibly enjoying a successful working relationship with the chancellor.
One of the Boys
Angela Merkel remains distinctly unimpressed with many male politicians, and she frequently one-ups them, even when she likes them. As outgoing U.S. ambassador Philip D. Murphy rose to give an effusive toast in German at an intimate farewell dinner in the summer of 2013, his notes quoting J.F.K. printed on index cards, Merkel reached up and snatched the cards right out of his hand and mischievously placed them under the napkin on her lap. "Your German's good enough to do it without these," Merkel said. "Let's hear it."
Says Annette Heuser, executive director of the Bertelsmann Foundation in Washington, D.C., "Merkel does not define herself as a female—she has defined her own class, which is heavyweight champion." Although Merkel got her start and promotions from men, she always benefited from being underestimated, in part because she looked so young, geeky, and frumpy; she smoked and bit her fingernails practically down to the cuticles. Additionally, Merkel's peers were the men who rose through the party ranks, beginning in the C.D.U. as teenagers, and its leaders, such as Kohl, were revered as father figures within the party. Merkel never really saw it that way.
Today, she has to contend with two dominant male figures on the world stage, Vladimir Putin and Barack Obama. Roderich Kiesewetter, a C.D.U. member of the Bundestag and a data-security expert, told me that the chancellor spent more than 110 hours on the phone with Putin in 2014, though Germany's Information Ministry downplayed that number. Merkel's Russian is as good as Putin's German. Growing up in East Germany, Merkel won a prize as a teenager for being the third-best student Russian speaker in the G.D.R. The award included a trip to Moscow, where she took the opportunity to buy her first Beatles record. For his part, Putin spoke German while stationed in Dresden as a not terribly successful K.G.B. agent, where his mission was to recruit Stasi members for the K.G.B.
The Germans and the Russians have a long history of being philosophical and literary soulmates when they are not trying to annihilate each other. Merkel keeps a small portrait of Russia's Catherine the Great on her desk. In past years, Germany blocked NATO expansion that was being pushed by the U.S. ever closer to Russia's borders. Germany obtains 36 percent of its natural gas from Russia, and Gerhard Schröder, who is still influential in S.P.D. circles, became so chummy with Russia that his revolving door after the chancellery led right to a position on the board of Gazprom, Russia's chief energy conglomerate; last spring in St. Petersburg, on Schröder's 70th birthday, Putin even came by to give Schröder a hug and wish him a happy birthday.
Merkel's relationship with Putin isn't that buddy-buddy, even though Putin was so grateful to Germany in 2008 for preventing NATO expansion into Georgia and Ukraine that, according to Stefan Kornelius's biography, he promised Merkel he "would never forget what she had done." She had learned to be skeptical. Only a year previous, knowing Merkel has a fear of large dogs stemming from an incident in which she was bitten, Putin had his large black Lab, whose name is Koni, run into the room during one of their private meetings and stay beside him while he and Merkel sat across from each other. Merkel did not flinch. (Photos of the meeting show the dog burying her head in Merkel's lap.)
Merkel recently told a group of German high-school students, "Maybe Russia does not want to share our values. That may very well be the case and we can't force anything." But about the crisis in Ukraine, she said, "If we have to watch how a country is de-stabilized and then gets weaker and weaker, then we have to try to help this country." Indeed, by October of last year, Germany was considering sending troops to Ukraine to assist international monitors there, and, in November, Merkel delivered a strongly worded rebuke to Russia following the G-20 Leaders' Summit.
"People have come to understand the evil intentions of Putin, so the public mood has changed toward Putin," says Norbert Röttgen. Roderich Kiesewetter told me that "Putin understandings" has become a standard expression in the chancellor's circle: "She reaches an oral agreement and then one day later, two hours later, he doesn't remember." After one particularly vexing round of phone calls in March, it leaked that Merkel had confided to Obama that Putin lives "in another world." The leak may have come from the White House, and the Germans were not pleased. When I asked a German official to confirm the statement, he very pointedly said, "We never divulge the content of confidential conversations."
Even though President Obama presented Merkel with the Presidential Medal of Freedom, our highest civilian honor, and gave her a state dinner in 2011, she and Obama have none of the coziness between them that may have prompted George W. Bush to surreptitiously approach Merkel from behind and squeeze her shoulders at a Group of 8 summit in 2006. (The New York Times called it "the neck rub heard round the world.") Obama has not learned how to break the ice with her, or perhaps does not care to. Tricky relations between U.S. and German heads of state aren't entirely new. "Kennedy and Adenauer hated each other," Kornblum says, "and Schmidt thought Carter was a damned preacher in the White House." Merkel and Obama are correct with each other, both realizing their importance to each other, though Merkel's importance seems only to increase every day. "Nowadays they are on an eye-to-eye level with us," says Tony Czuczka, who covers Merkel for Bloomberg and co-wrote a Merkel biography. "Merkel doesn't have to take advice from the Obama administration. Obama very consciously has delegated key parts of what needs to be done in Europe to Merkel in the last five years." Often that puts Merkel right at the pressure point between Obama and Putin.
Moreover, because of the "lies and deceptions" of the Iraq war, drones, the N.S.A. phone-tapping scandal, and spying revelations, as I heard over and over, it's a new day for relations between Germany and the United States. "As a role model America has lost its fascination," says Sebastian Turner, co-owner of the Berlin-based daily Der Tagesspiegel. Polls today show Germans less favorably disposed toward the U.S. and Obama than they were just a year ago.
From the beginning of his first presidential campaign, when all of Germany seemed to develop a mad, passionate crush on Barack Obama, Merkel, perhaps because she is no orator, was highly suspicious of Obama's appeal. First she was against his giving a campaign speech at the Brandenburg Gate in 2008, which seemed intended as a kind of encore to Reagan's "Mr. Gorbachev, tear down this wall!" and an echo of J.F.K.'s "Ich Bin ein Berliner." Instead, candidate Obama spoke before 200,000 people, the largest crowd of the entire campaign, at the nearby Tiergarten. Dirk Kurbjuweit says that, at the time, Merkel told him that Obama's charisma—the very idea of which is antithetical to everything that is Angela Merkel—was overrated: "When he's running, he can shine, but when he is in office he will have very different tasks. You can't solve the tasks with charisma."
One mystery that remains is the role that Merkel's highly intelligent husband, Joachim Sauer, plays in advising his wife. Although people told me that he plots with her and is very influential, I never got any concrete examples. Still, according to Stefan Kornelius, "He's a guy who is even stronger politically [in his views] than she is. He advises her even now."
Sauer, a professor of theoretical chemistry at Humboldt University, in Berlin, is so private that he travels everywhere without visible security. On the day Merkel got the Presidential Medal of Freedom in Washington, he showed up late for the state dinner. He rarely travels anywhere officially with his wife and was criticized for skipping her inauguration altogether in 2005. He did, however, play the kind spouse, taking Michelle Obama and the daughters to see Berlin. Sauer spent a year working in San Diego in the 1990s, and the California coast remains one of the couple's favorite vacation spots, even though they cannot travel there anymore because of the distance and obvious time constraints.
He and Merkel live in an apartment in an old building right across from the picturesque Museum Island, in Berlin. The night I drove by, there was a lone policeman outside and a couple who apparently also lived in the building fiddling with the lock. Merkel and Sauer, who prefer classical music and opera to any other form of culture, go to the Bayreuth festival every year, and bloggers delight in posting photos that show the chancellor wearing the same colorful tunic there for about 15 years. But this no-frills style is very appealing to Germans: she is not a spendthrift; she cannot be bought!
Merkel cultivates her own form of down-home style: she is a genuine soccer fan and avidly roots for Germany in the World Cup (she was in Rio last summer when they won); she occasionally goes grocery shopping on her own; she likes to cook; she spends off time at a small dacha not far from Templin that she bought before she got involved in politics. Gahl Hodges Burt, the vice-chairman of the American Academy in Berlin, was once getting her hair done at Udo Walz's salon—he is the Mr. Kenneth of Berlin—and looked up to see Angela Merkel in the chair right next to her, with hair color waiting to set, working away on her BlackBerry, just another client. Her only security, Burt said, was two men standing outside, sipping coffee.
Fourth Time Around?
There is no term limit for German chancellors, and people have already begun to speculate as to whether Merkel will run for a fourth term in 2017, and, if not, who her successor will be. She has eliminated most of the competition. (Note to Hillary Clinton, who is known to share a rapport with the chancellor: in the last election Merkel's opponent accused her of having a Frauen-bonus, a bonus for being a woman, and a poll showed the German public preferred that she run against a woman.) The pol who appears to most want to succeed Merkel is a woman and could not be more different. Minister of Defense Ursula von der Leyen, also of the C.D.U., is a petite, outspoken, 56-year-old medical doctor and mother of seven. It is said that she is not a favorite of Merkel's. She has not been defense minister for long, but, bad luck for her, she has to take the brunt of criticism for the ill-prepared state of German military equipment.
One rumor you hear is that Merkel wants to follow Ban Ki-moon as secretary-general of the U.N. There is also speculation that she will stick around for a fourth term just to see if she can ultimately take down the Big Dog—Putin. "We think he has a hidden strategy to disturb and weaken the E.U. to cause it to split," Kiesewetter told me.
There are other serious issues brewing inside Germany. Her country has one of the lowest birthrates in the E.U., and 35 percent of children under five have an immigrant background, mostly Muslim. At the current rate, Germany could acquire a million refugees every five years. How will they be integrated into German society? Because the re-unification of East and West Germany cost about a trillion euros, spending on infrastructure and education has suffered, and Germany has failed to spawn anything yet resembling the innovation of Silicon Valley.
"What has she done for the Germany of the future—to make Germany more dynamic? The jury is out," says Bloomberg's Tony Czuczka. "Germany faces all these challenges. Is she resting on Germany's laurels? That really is the question, especially for economists, of the third term."
Nearly 70 years after the end of World War II and 25 years after re-unification, Germans may still want to think of themselves as a big, uninvolved Switzerland, but they certainly telegraph power in their architecture. One day I went to see Merkel give a press conference in her dramatic, sweeping, ultra-modern glass-and-concrete Chancellery building, which happens to be 10 times the size of the White House and one of the biggest government headquarters in the world. An oversize female nude sculpture, titled The Philosopher, stood in front of the north entrance's grand stairway; it is intended "to epitomize the person who likes to take time to reflect." Whoever wrote that definitely got Merkel's number. At the top of the staircase to the right is a row of portraits of Merkel's predecessors, all male, their names evoking history and glory: Adenauer, Brandt, Kohl. But Angela Merkel has acquired more power on the world stage than any of them. And yet, as Die Zeit's Mariam Lau told me, "she's a riddle."
When I pressed the C.D.U.'s Roderich Kiesewetter about a potential fourth term, he told me he has heard Merkel say she does not want to risk losing an election. She prefers to find a way to turn the job over to a handpicked successor. Kiesewetter is convinced that Merkel is already working on a candidate, but he refused to reveal a name: "It's a surprise."
Original Publication: Vanity Fair, January, 2015.