InStyle – November 2014
Taylor Swift has declared her independence. And if the extremely poised and polished young woman with the bright red Kewpie-doll mouth and big-city blunt cut had been wearing white gloves when we first shook hands in the entryway of her gigantic New York loft, it wouldn't have been surprising. She reminds me much less of a country-star cutie than of a cool and collected aspiring Grace Kelly. At 24, Swift is very much in control—of herself, her music, and her empire.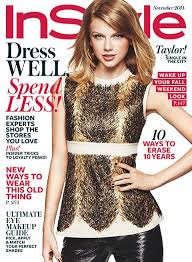 Newly transplanted to Manhattan and surrounded by a coterie of girlfriends (mostly famous ones), the singer is consciously uncoupled from boyfriends or even dates. Though her previous album, Red, was a paean to specific lost loves, bitterness, and heartbreak, her new, totally pop album, 1989, is a rebuke to all that—to the naysayers, to the cattiness, and even to her country roots. Named after her birth year, the album "is based on me learning to care less about what people think of me," says Swift, though she admits that it's hard to do in your early 20s. "Once you think about it, aren't the people who are living their lives without worrying about other people's opinions having more fun than those judging them?" she says, with her white rescue kitten, Olivia Benson, nestled beside her. This heightened awareness not only shields Swift from "the public meltdown they are all waiting for," but it also equipped her with the confidence to change her life completely. "My last album was about trying to figure out how to get past a broken heart," she says. "This album is the phase after that, where you pick up the pieces and you're finally OK. In my case, you move to a city you've never lived in, you cut your hair, you build your life around your girlfriends, and you write songs about whatever you feel like writing songs about."
We are sitting in the large open living room of Swift's new two-story, five-bedroom TriBeCa apartment, which was built as a warehouse in the 19th century and previously owned by Lord of the Rings director Peter Jackson. It still has the original exposed-beam ceilings running throughout, and Swift has filled the generous spaces with comfy sofas and piles of antique luggage used as side tables, some accessorized with nature curios, like a pair of stuffed birds under glass. The effect is more Harry Potter than Girlie Modern: "I'm very enthralled with the way things used to be," she notes. Her favorite room, however, is the bright rectangular kitchen, with a long center island topped in white marble, where she can indulge her love of baking. The only acknowledgment that a star lives here is the cluster of unobtrusively displayed music awards she won in 2013—unless you count the framed black-and-white Polaroids of friends Lena Dunham, Karlie Kloss, and Lorde on the walls of the TV room. (Swift recently acquired one of Polaroid's vintage models.) The loft is their gathering spot for impromptu dance parties or games of pool. Also on the walls are pictures of her dapper 22-year-old brother, Austin, a senior at Notre Dame, along with her best guy pal, English singer Ed Sheeran, giving the finger, but mostly it's girls' night out in the bachelorette pad.
Swift, crossing her legs in a chic black-and-white Autumn Cashmere mini and lace-up black stilettos, emphasizes that girlfriends are her primary social life. "We see each other whenever we can, and we text all the time—it's a lot easier to be a really great, close friend when that is the only personal relationship you have," she says. Amusingly, when I ask her to list her best friends, she easily rattles off four or five and then checks her texts for more. "Jaime King, Selena [Gomez], Odeya [Rush], Hailee [Steinfeld] …" Her life today, she says, is her career and her friends, and she is no longer even yearning for the Big Relationship. "I'm too young to get married. Not agewise, but I know myself, so why try to meet someone right now when I know I'm too young to do something serious?"
Since the age of 12, when she first persuaded her parents to leave their three-bedroom farmhouse in Pennsylvania so she could try her luck in Nashville, Swift's precocious talent has always been anchored in her ability to express uncensored feelings in memorable lyrics (she won a songwriting contract at only 14) alongside catchy rhythmic hooks. In Red, Swift spared no emotional devastation and stopped just short of naming the names of her loves-gone-wrong but nevertheless provided tantalizing clues in special code in the album notes. Among the most-guessed-at targets were actor Jake Gyllenhaal and boy-band lothario Harry Styles. She herself claims, "I've only had three real relationships, and none of them lasted more than four months." But when Swift received tabloid backlash for dating Conor Kennedy, the seemingly vulnerable 18-year-old son of Robert Kennedy Jr. in the late summer of 2012, she acquired a reputation in scandal sheets and gossip blogs as a boy-crazed serial dater.
Name-calling becomes a problem when you have 44 million Twitter followers, as Swift does, and many are young teens. The accusations bothered her terribly. "I stopped understanding how amazing this whole thing was when I first started to experience the cynicism with which people look at the lives of famous people—as if they're not real," says Swift. She came to a realization: "I was at a level with my music where I was becoming a target." The singer thought she was "doing what normal 21- or 22-year-olds do, and it's being turned into some sort of a crime." She had to learn to stop caring—or, in the words of her album's first hit single, "Shake It Off"—but that emotional distance came with a price. "I haven't gone near a guy in a year and a half. There are usually 15 paparazzi waiting outside my house, so if I'd had a guy over here, there would have been photos of him," she says. "I have friends who will say to me, 'The press is hating on me for partying,' and I'm like, 'Then why don't you stop partying?' If you honestly want them to have nothing to write about, give them nothing to write about."
Megastardom these days means having to anticipate the moment and get out in front of the audience with the cleverest and most creative social-media packaging—along with keeping cool in the line of fire. When asked how she manages to keep all the social-media chatter about her straight, she rather innocently tells me her publicist, Tree Paine, has a Google alert on her. But in the midst of all the hubbub, her best shrink is still her mom, Andrea. "Calling my mom is something that kind of calms me down when I'm stressing out, because she knows I stress out more than anyone else." Her mother, who instilled discipline "with equal amounts of affection, love, and support," is her absolute role model. "When I look back, my mom was never easy on us. She made us study, she made us learn about manners and how to clean a house and get ready for company and entertain guests—all those things my brother and I used to roll our eyes at, things I am now so thankful I possess."
But because Swift is "always on an upward slant," it's hard for her to chill. "It gets really crowded in my brain a lot of the time," she says. "It's not easy having this mind-set where you feel you haven't worked hard enough, you haven't dug deep enough, you haven't reached your full potential. Then one day you wake up and you feel like you finished this album." So far, this process has happened like clockwork every two years.
Still, this time around, Swift has to be mindful of country-music fans and radio stations feeling deserted by her. She says 1989, executive-produced by Swedish pop powerhouses Max Martin and Shellback, is inspired by late-'80s musicians like Peter Gabriel and the Eurythmics, not Reba McEntire or George Strait. (The album drops October 27 and crashed her Web site with the massive demand for preorders.) Country music remains her "emotional profile," however, and she's done so many country-radio tours, she can recite the names of the DJs' kids. "I love country music—the honesty, the storytelling—that will always be the root of my songwriting. I am never going to write a song about going to a club for no reason … But this is a pop album," she insists.
Apart from the genre concerns Swift faces, gender issues are also ahead of her. "Count the number of women who are able to maintain relevant music careers over the age of 30. There aren't many, and I wish there were more," she says. "I would love to be someone who helps change that." When I ask her which women are achieving that today, she lists Gwen Stefani and Jennifer Lopez; then, there is a pregnant pause, and she fixes me with an exasperated look: "You see what I mean?"
Stefani and Lopez have children, I comment, and ask whether she doesn't worry that being so driven and hard on herself might be heavy baggage for her own kids someday. Though Swift admits she thinks about it a lot, she says, "I don't know if I'll have kids. It's impossible not to picture certain scenarios and how you would try to convince them that they have a normal life when, inevitably, there will be strange men pointing giant cameras at them from the time they are babies."
Before children come along, however, that age-old artistic question will most likely be asked: Who wins, the song or the guy? Will Mr. Right get in the way of her lyrics? With Swift, it's hard to know which one to bet on.
"If I ever had someone I really cared about and loved, would I start to edit? Because I don't ever edit now," she admits. "Unless that person shows up and I'm completely floored by how much I respect him and he respects me, and immediately we care about each other and have each other's backs … Unless that happens, I am so good alone. It's not sad; it's not tragic."
Not that anyone is beginning to feel sorry for Swift. Still shy of 25, she is a juggernaut, so adept at communicating on a global level and preternaturally savvy about thinking big with multiple moving parts. I ask whether she has ever considered going into politics—given her skills in anticipating the moment and connecting with a huge audience—or running something even more complicated than the business of being Swift.
"In glimpses. I've thought about if I were to be passionate about something political, stepping forward and speaking about it. At this point I have my hands full, but as with everything in my life, when I come upon something I'm passionate about, I'm very vocal about it, so we'll see."
No doubt we will. There's not a stage that hasn't been won over by the force of Taylor Swift.
Original Publication: InStyle – November, 2014.