Original Publication: Esquire November 1, 1971
Another Version of the American Dream – Nashville, Country Music
By Maureen Orth, Photos by Bud Lee
Last spring, early one Sunday morning, a man in a wheelchair brought his guitar to Nashville, Music City U.S.A. He'd saved for a year to make the trip, hoping to sell a song he had written. But Nashville on Sunday morning isn't Nashville at all, certainly not the musical carnival the man was expecting. The producers, publishers, writers, singers, bookers, and pickers of country music were home sleeping in their king-size velvet-covered beds, or fishing from fancy houseboats out on a lake, or simply shaking off Saturday night in motels such as Roger Miller's King of the Road. But Sundays excepted, Nashville is indeed the appropriately vibrant capital of Country & Western. It is the center of an industry worth well over $200,000,000 and, in many social respects, a rerun of the Old Hollywood—complete with casting couches, freewheeling moguls, bus tours of the stars' homes, even a wax museum memorializing the chords and twang of dead heroes. Typical of so many, the cripple wanted to plug into the Dream and perhaps take home a recording contract, a piece of jukebox play, maybe even his own niche in the Country Music Hall of Fame. "I came with a song, I want somebody to hear it," he said. "Folks back home think it's real good."
One big hit can keep a C&W performer in Cadillacs for years. The song will be demanded thousands of times at county fairs, Carnegie Hall, bucket-of-blood honky-tonks, the Grand Ole Opry. Striking a vein in Nashville will bring wealth beyond the dreams of avarice. And the way in which this wealth is pursued and used makes Nashville not simply another version of the American Dream, but today—in the America of the Seventies—the funkiest dream of all.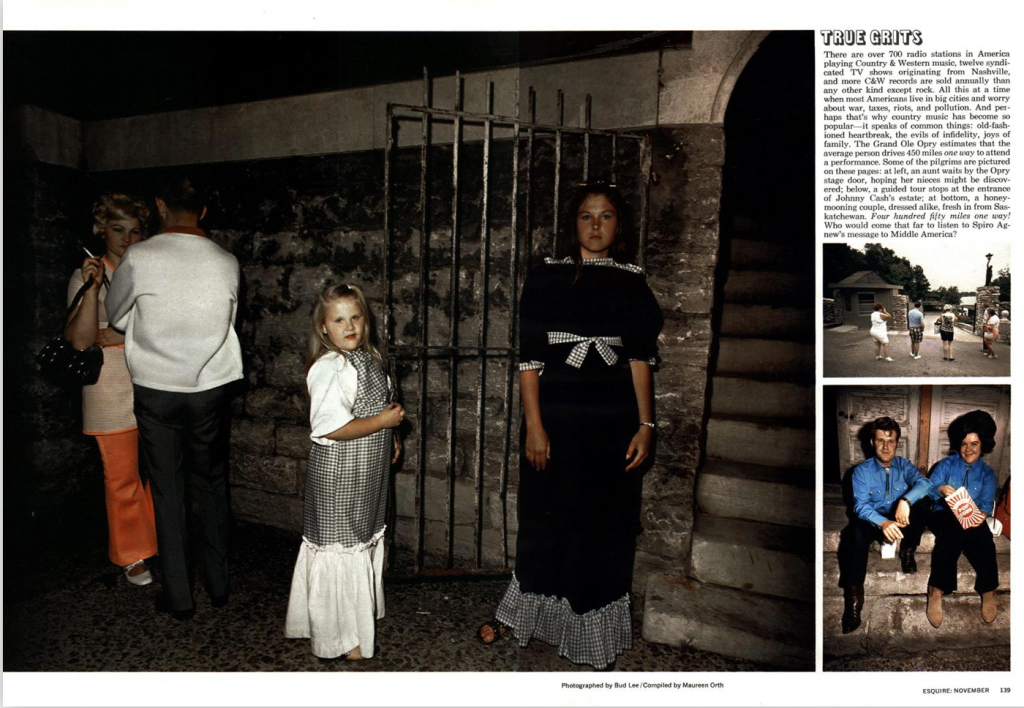 TRUE GRITS
There are over 700 radio stations in America playing Country & Western music, twelve syndicated TV shows originating from Nashville, and more C&W records are sold annually than any other kind except rock. All this at a time when most Americans live in big cities and worry about war, taxes, riots, and pollution. And perhaps that's why country music has become so popular—it speaks of common things: old-fashioned heartbreak, the evils of infidelity, joys of family.
Some of the pilgrims are pictured on these pages: at left, an aunt waits by the Opry stage door, hoping her nieces might be discovered; below, a guided tour stops at the entrance of Johnny Cash's estate; at bottom, a honeymooning couple, dressed alike, fresh in from Saskatchewan. Four hundred fifty miles one way! Who would come that far to listen to Spiro Agnew's message to Middle America?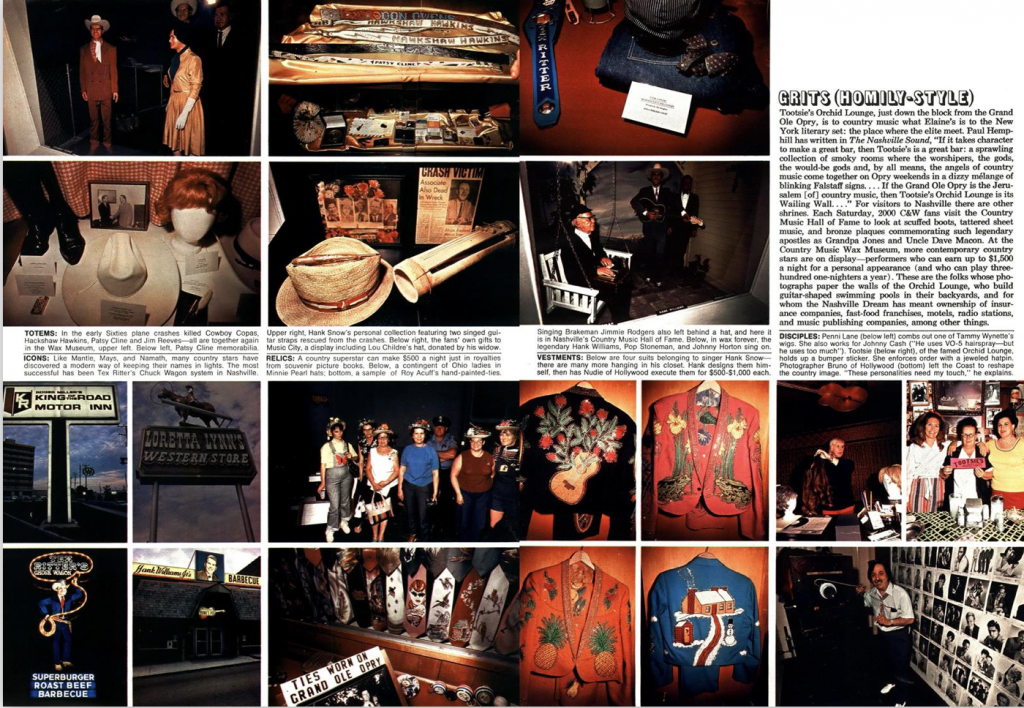 GRITS (HOMILY-STYLE)
Tootsie's Orchid Lounge, just down the block from the Grand Ole Opry, is to country music what Elaine's is to the New York literary set: the place where the elite meet. Paul Hemphill has written in The Nashville Sound, "If it takes character to make a great bar, then Tootsie's is a great bar: a sprawling collection of smoky rooms where the worshipers, the gods, the would-be gods and, by all means, the angels of country music come together on Opry weekends in a dizzy mélange of blinking Falstaff signs. . . . If the Grand Ole Opry is the Jerusalem [of] country music, then Tootsie's Orchid Lounge is its Wailing Wall. . . ." For visitors to Nashville there are other shrines. Each Saturday, 2000 C&W fans visit the Country Music Hall of Fame to look at scuffed boots, tattered sheet music, and bronze plaques commemorating such legendary apostles as Grandpa Jones and Uncle Dave Macon. At the Country Music Wax Museum, more contemporary country stars are on display—performers who can earn up to $1,500 a night for a personal appearance (and who can play three-hundred one-nighters a year). These are the folks whose photographs paper the walls of the Orchid Lounge, who build guitar-shaped swimming pools in their backyards, and for whom the Nashville Dream has meant ownership of insurance companies, fast-food franchises, motels, radio stations, and music publishing companies, among other things.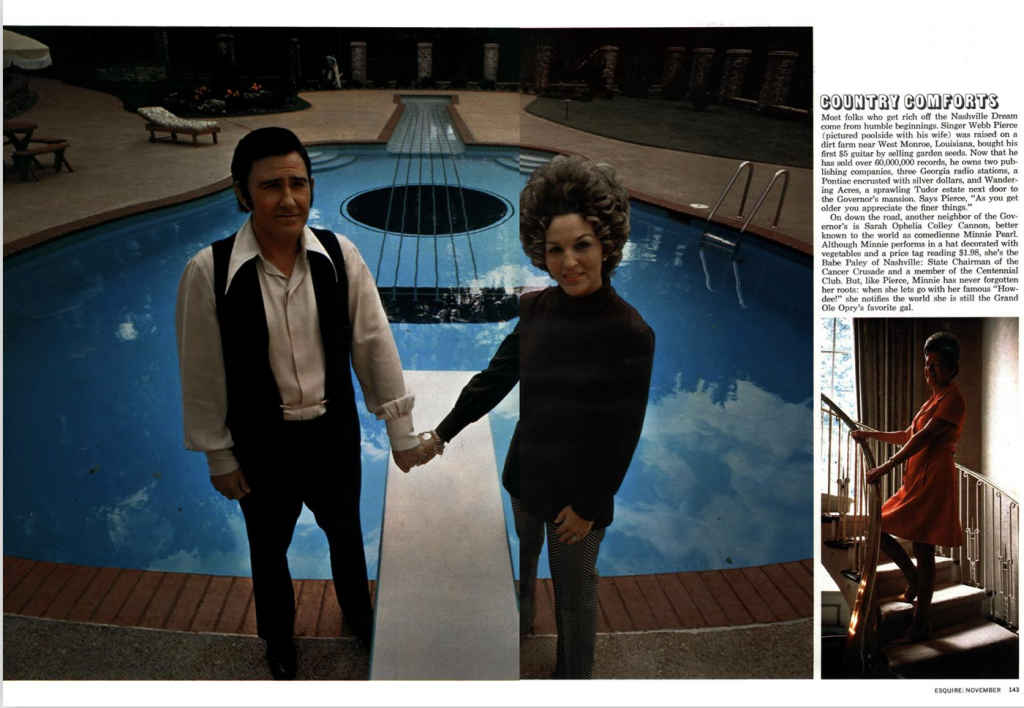 COUNTRY COMFORTS
Most folks who get rich off the Nashville Dream come from humble beginnings. Singer Webb Pierce (pictured poolside with his wife) was raised on a dirt farm near West Monroe, Louisiana, bought his first $5 guitar by selling garden seeds. Now that he has sold over 60,000,000 records, he owns two publishing companies, three Georgia radio stations, a Pontiac encrusted with silver dollars, and Wandering Acres, a sprawling Tudor estate next door to the Governor's mansion. Says Pierce, "As you get older you appreciate the finer things."
On down the road, another neighbor of the Governor's is Sarah Ophelia Colley Cannon, better known to the world as comedienne Minnie Pearl. Although Minnie performs in a hat decorated with vegetables and a price tag reading $1.98, she's the Babe Paley of Nashville: State Chairman of the Cancer Crusade and a member of the Centennial Club. But, like Pierce, Minnie has never forgotten her roots: when she lets go with her famous "Howdee!" she notifies the world she is still the Grand Ole Opry's favorite gal.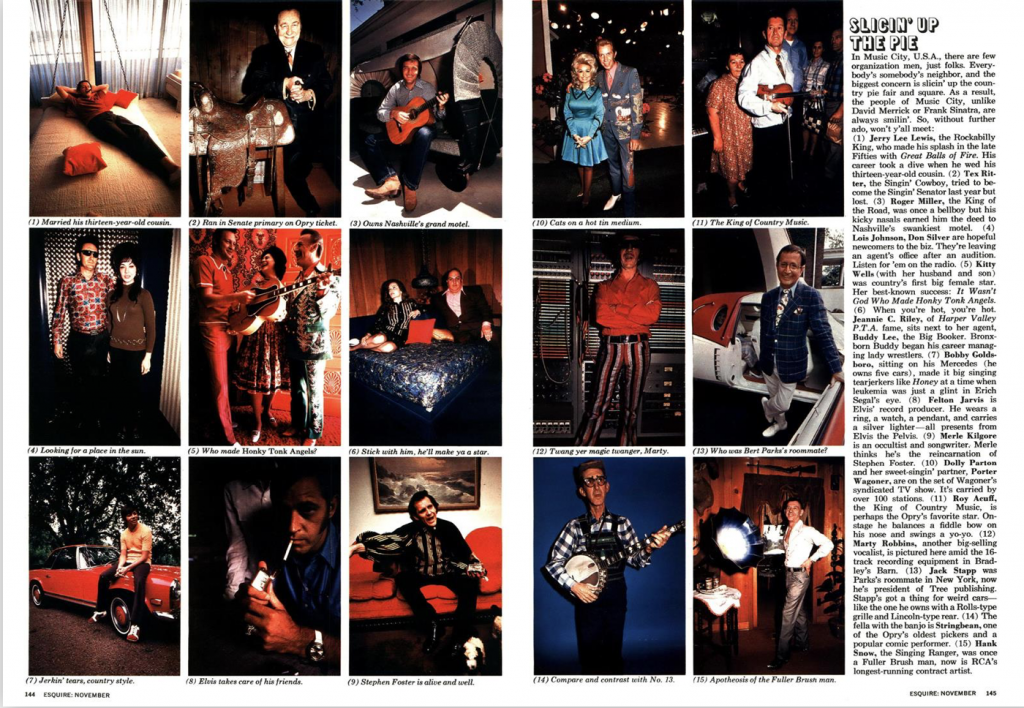 SLICIN' UP THE PIE
In Music City, U.S.A., there are few organization men, just folks. Everybody's somebody's neighbor, and the biggest concern is slicin' up the country pie fair and square. As a result, the people of Music City, unlike David Merrick or Frank Sinatra, are always smilin'. So, without further ado, won't y'all meet:
(1) Jerry Lee Lewis, the Rockabilly King, who made his splash in the late Fifties with Great Balls of Fire. His career took a dive when he wed his thirteen-year-old cousin. (2) Tex Ritter, the Singin' Cowboy, tried to become the Singin' Senator last year but lost. (3) Roger Miller, the King of the Road, was once a bellboy but his kicky nasals earned him the deed to Nashville's swankiest motel. (4) Lois Johnson, Don Silverare hopeful newcomers to the biz. They're leaving an agent's office after an audition. Listen for 'em on the radio. (5) Kitty Wells (with her husband and son) was country's first big female star. Her best-known success: It Wasn't God Who Made Honky Tonk Angels. (6) When you're hot, you're hot. Jeannie C. Riley, of Harper Valley P.T.A.fame, sits next to her agent, Buddy Lee, the Big Booker. Bronx-born Buddy began his career managing lady wrestlers. (7) Bobby Goldsboro, sitting on his Mercedes (he owns five cars), made it big singing tearjerkers like Honey at a time when leukemia was just a glint in Erich Segal's eye. (8) Felton Jarvis is Elvis' record producer. He wears a ring, a watch, a pendant, and carries a silver lighter—all presents from Elvis the Pelvis. (9) Merle Kilgore is an occultist and songwriter. Merle thinks he's the reincarnation of Stephen Foster. (10) Dolly Parton and her sweet-singin' partner, Porter Wagoner, are on the set of Wagoner's syndicated TV show. It's carried by over 100 stations. (11) Roy Acuff, the King of Country Music, is perhaps the Opry's favorite star. Onstage he balances a fiddle bow on his nose and swings a yo-yo. (12) Marty Robbins, another big-selling vocalist, is pictured here amid the 16-track recording equipment in Bradley's Barn. (13) Jack Stapp was Parks's roommate in New York, now he's president of Tree publishing. Stapp's got a thing for weird cars—like the one he owns with a Rolls-type grille and Lincoln-type rear. (14) The fella with the banjo is Stringbean, one of the Opry's oldest pickers and a popular comic performer. (15) Hank Snow, the Singing Ranger, was once a Fuller Brush man, now is RCA's longest-running contract artist.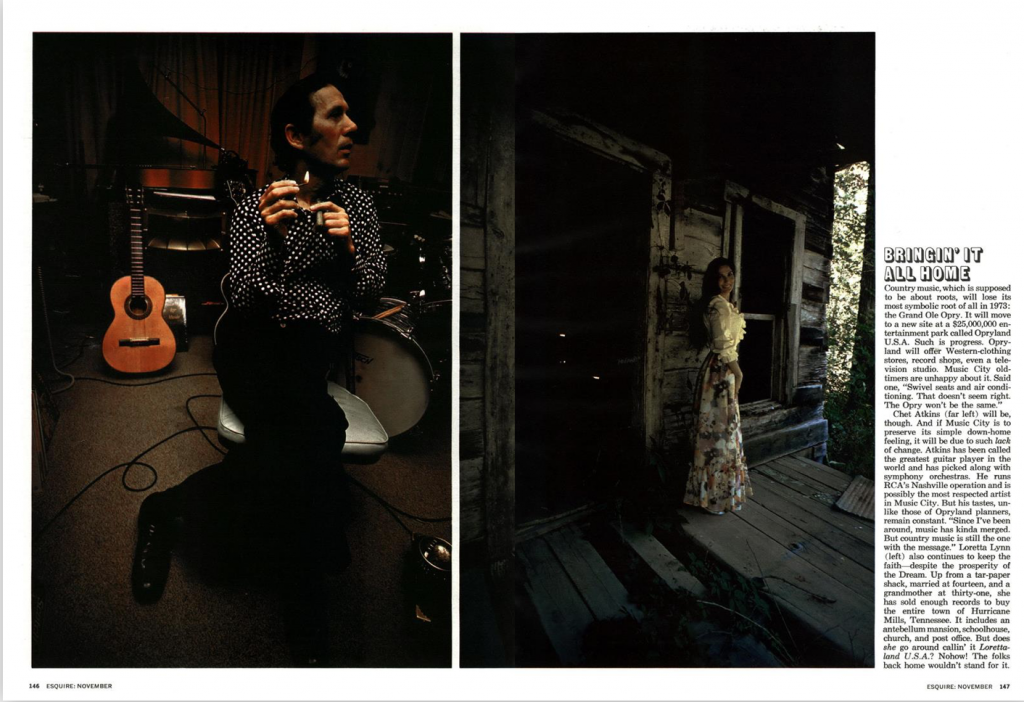 BRINGIN' IT ALL HOME
Country music, which is supposed to be about roots, will lose its most symbolic root of all in 1973: the Grand Ole Opry. It will move to a new site at a $25,000,000 entertainment park called Opryland U.S.A. Such is progress. Opryland will offer Western-clothing stores, record shops, even a television studio. Music City old-timers are unhappy about it. Said one, "Swivel seats and air conditioning. That doesn't seem right. The Opry won't be the same." Chet Atkins (far left) will be, though. And if Music City is to preserve its simple down-home feeling, it will be due to such lack of change. Atkins has been called the greatest guitar player in the world and has picked along with symphony orchestras. He runs RCA's Nashville operation and is possibly the most respected artist in Music City. But his tastes, unlike those of Opryland planners, remain constant. "Since I've been around, music has kinda merged. But country music is still the one with the message." Loretta Lynn (left) also continues to keep the faith—despite the prosperity of the Dream. Up from a tar-paper shack, married at fourteen, and a grandmother at thirty-one, she has sold enough records to buy the entire town of Hurricane Mills, Tennessee. It includes an antebellum mansion, schoolhouse, church, and post office. But does she go around callin' it Loretta-land U.S.A.? Nohow! The folks back home wouldn't stand for it.