Original Publication: Newsweek – February 26, 1973
Everybody knows singing cowboys sport white Stetsons and fade slowly into the sunset singing "Git along little dogie." But are you ready for "Kinky Friedman and the Texas Jewboys"? For Kinky (Richard) Friedman, a nice Jewish boy who grew up on a Texas ranch, is on his way to beoming the first Texas-Jewish country-music star.
In his new album, "Sold American," which will be released next month by Vanguard Records, Kinky integrates the classic country themes with the sense of his own Jewishness. Straight country tunes like "Sold American" and "Highway Café" have a twist of social consciousness. In "Ride 'Em Jewboy" he uses the Western ballad form to search for his own roots. "We Reserve the Right to Refuse Service to You" is biting social satire clothed in a hillbilly beat, and "The Ballad of Charles Whitman" uses a bluegrass rhythm to tell the story of the sniper who killed thirteen people from a University of Texas tower.
Friedman treats his anomalous identity with a mixture of irony and seriousness. "The idea of a Texas Jew is absurd," he says, "but there's one thing cowboys and Jews have in common. They're the only two groups who keep their hats on indoors." But then, he adds in his Texas drawl, "With both, roots are very strong. There's a plaintive quality to country and Jewish music. The steel guitar is plaintive. So is the Jewish traditional prayer."
Kinky grew up in Rio Duckworth, Texas, on the family spread, and spent time in Texas college towns where his father, a psychology professor, taught. He was a classics major at the University of Texas, then joined the Peace Corps and was sent to Borneo. Soon after he arrived, a monsoon started and lasted six months. "I couldn't get upriver to distribute seeds," he recalls, "so I started playing Frisbee with the kids. You could say I introduced the Frisbee to Borneo."
During the monsoon, Friedman wrote some of his best songs and decided he was going to make it as a country singer. When he got back to the States he headed for Hollywood, where he spent eight miserable months living at a hotel called "Magic Palace of the Stars." The predominantly Jewiish moguls in the recording industry did not take kindly to his group, which was named after "Bob Wills and the Texas Playboys." Joe Smith, president of Warner Brothers Records, confessed he'd like to give him a contract, "but I don't know what I'd tell my mother."
Discouraged, Friedman headed home but was spotted by a "bunch of Catholic hillbillies" in Nashville who signed him for their music-publishing company. Then Vanguard heard about Friedman and sent a scout to Nashville. The result is his first album.
"Ride 'Em Jewboy," the first cut on the album, has become Friedman's anthem.
Ride, ride 'em Jewboy
Ride 'em all around the ol' corral
I'm, I'm with you, boy
If I got to ride six million miles . . .
Do not let the mornin' blind you
When on your sleeve you wore the yeller star
Old memories still live behind you
Can't you see by your outfit who you are?*
In their own way Friedman's songs express the same acute sense of self-estrangement as those of singers like John Prine. "Both Jewboys and cowboys are wandering soulful types," says Kinky. "Both have their problems and know how to enjoy their suffering pretty well. 'Ride 'Em Jewboy' is a Western interpretation of an Eastern experience. All Jews are confused, looking for an identity. Some young, hip rabbis held a seminar on my songs and construed them as Jewish awareness. I think that's all right. Basically my root is country – corned beef on rye is where it's at, corny but twisted."
"Actually," Friedman points out, "the whole new music thing started with two Jewboys, Dylan and Ramblin' Jack Elliot. One went East and one went West. The other Jews like Norman Greenbaum and Al Kooper became hippies or turned to old black blues. It's a little strange none of the Jews have picked up on their own thing."
Confused: Not that Friedman's new group is completely kosher. "They're kind of confused whether they're Jewish or not," says Friedman, adding that his bass player, Billy Swann, who used to be with Kris Kristofferson, "suspects he might be either a Jew or a red-neck." As for Friedman himself, he admits he is no whiz on the guitar, but says, "I did study the accordion for ten years."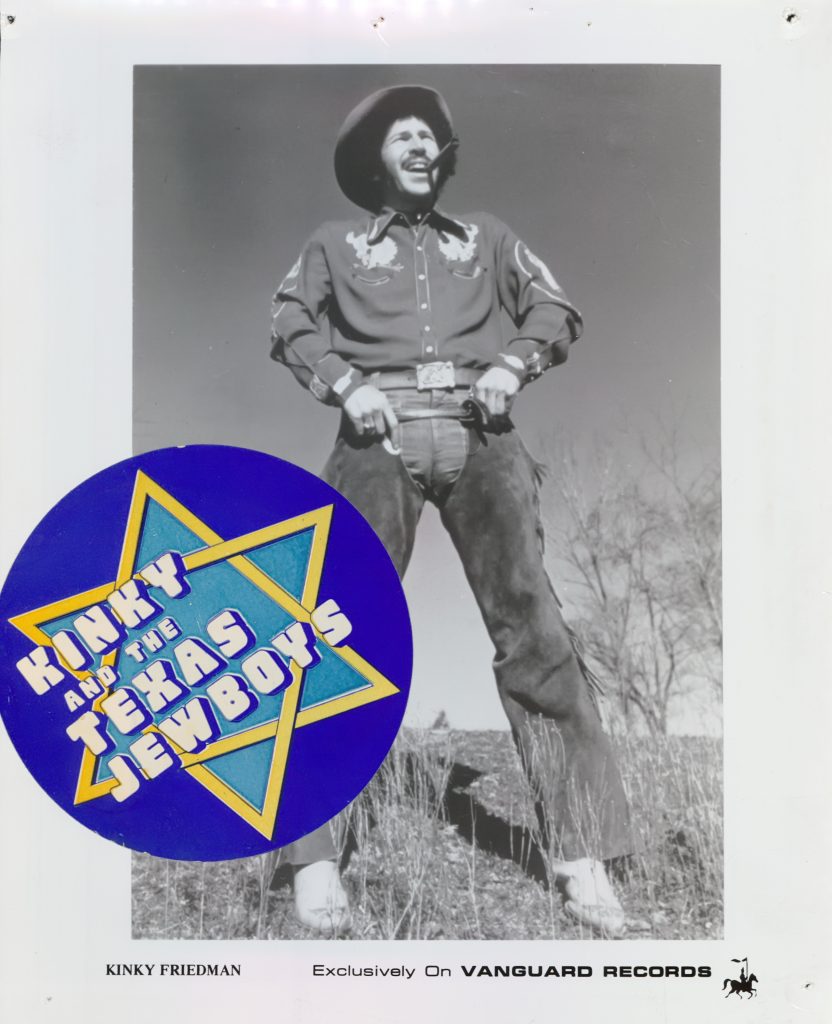 Friedman is worried that his album won't get into some of the big record chain stores. "The name of my group is poison to Jewish store owners," he says. Now, however, Glen Campbell is set to record, "Sold American," and Kinky plans to showcase his album in a New York delicatessen. "There's going to be a chopped-liver bust of me, and all the critics can eat me up," says Kinky.
*copyright – 1973 Glaser Plubications, Inc. Nashville, Tenn. Used by permission of copyright owner.
This article is typed from the original material. Please excuse any errors that have escaped final proofreading.