Alas, the tawdry behavior of the U.S. Secret Service partying with prostitutes grabbed all the headlines at the 2012 Summit of the Americas, proving that what happens in Cartagena does not stay in Cartagena. But that is a good thing—there is so much to tell about what is happening in this hemisphere that is vibrant and positive. As I watched the proceedings of the first ever C.E.O. Summit of the Americas taking place at the Hilton Hotel before the government-oriented proceedings at the convention center a day and a half later, I felt at times I was in a time warp. Here were all these titans of new kinds of businesses, people running advanced biofuels in Brazil; micro-lending start-ups where the due-diligence process is a character reference from a friend on Facebook; the presentation of "Philanthrocapitalist" (whose hips don't lie) Shakira, touting early-childhood education as business's best investment return. In contrast, at the government level, the old entrenched political arguments were once again being rehashed despite the patent failures of the current policies: Should Cuba be invited to the next summit? Why wasn't it invited to this one? Or: Should we be discussing new ways to approach fighting drugs (and just maybe get the U.S. to own up to its consumption and to the fact that gun dealers on the U.S. side of the border effectively supply drug lords with their weapons)?
I am not a detached observer of Latin America, and particularly Colombia, which I first came to know as a young Peace Corps volunteer. It is a pet peeve of mine that New York Times columnist Nicholas Kristof, for instance, has almost never to my knowledge so much as mentioned the words "Latin America" in any of his writings, as he gallivants around the developing world slaying dragons. Yet because of the youth of its population (average age: 27), its rapid embrace of social media—Bogotá has more Facebook and Twitter accounts than New York—its abundant natural resources that can be exploited with new technology, and its burgeoning middle class, Latin America ought to have a lot more attention paid to it. "The future is not in Pakistan or Afghanistan," Colombian president and host Juan Manuel Santos pointedly said at the opening of the summit to his fellow heads of state. "It's in Latin America."
The economies of many Latin American countries are doing better than ours is, and a new wave of efficiency and transparency is at least being touted. Stressing governance and sustainability, Santos declared the Southern Hemisphere at "the tipping point." "There are no frozen rules; there are circumstances to take advantage of," said Luis Alberto Moreno, the dynamic president of the Inter-American Development Bank who devised the business summit. He extolled Latin America as "a motor for the recuperation of the economy worldwide." So it was puzzling to many in the audience, for example, that Hillary Clinton chose her opportunity to appear before the C.E.O.'s and heads of state to talk about the topic of wood stoves and closing the electricity gap for the poorest 7 percent of the population not yet connected to the grid. It was also interesting to observe Brazil's president Dilma Rousseff's body language as she sat on a panel with President Obama, with Colombian president Juan Manuel Santos seated between them. Brazil has just surpassed Britain as the sixth largest economy in the world, yet during her recent visit to Washington, Rousseff did not rate a State Dinner, and she and Obama have absolutely zilch chemistry. She must have referred to the U.S.-Brazil "asymmetric relationship" a dozen times while barely looking at Obama. Brazil is protectionist and does not like to compete with our weak dollar. Moisés Naím, the respected international political commentator, told me that "Brazil and the U.S. are a complete missed opportunity. It is the bilateral relationship with the biggest potential in the world. They could rewrite history with one stroke."
With these two in power, however, we should not hold our breath. Rather, it was outgoing Mexican president Felipe Calderón who gave the stem-winder on free-trade and globalization that Mitt Romney could only dream about. Mexico has 44 free-trade agreements, he said as he whipped out his BlackBerry and bragged that 66 percent of them were produced in Mexico. Competition has only made Mexico better. "Don't forbid the child to walk. Enable competitors to compete," he said.
Meanwhile, Cartagena, the historic Caribbean port Spain once used to transport gold and slaves, and now transformed into the St. Tropez of Colombia, was awash in color and festivity for the 30-plus heads of state in attendance. Obama was so taken with Cartagena that he mentioned he was scoping it out as a possible vacation spot to bring the First Family. The locals quipped they wish he'd come every week, because so many potholes got filled. Hillary Clinton was even photographed shaking her booty at an old Cuban music bar—it's that kind of place. The summit, in fact, marked the first time an American president had slept two consecutive nights in Colombia. But before that bit of history was made, with its attendant security concerns, the whole operation appeared to teeter toward wretched excess—the early-arriving Secret Service did not seem to have enough to do to keep themselves out of trouble. The agents' behavior deeply disappointed the Colombians, who have worked very hard to rebut their violent image of prior decades. (The U.S. either does not realize or does not care about the impression it is making.) At a stunning outdoor dinner the Colombians hosted at the foot of the colonial Spanish fortress San Felipe, a special restricted-access circular platform was erected where Obama sat much higher up and apart from other heads of state. None of the other V.I.P.'s could be served dinner until he arrived—more than an hour after everyone else. An organizer told me the total U.S. personnel involved for the summit was over 1,300. This same organizer tells me that Obama's security alone cost $81 million, while every other head of state's security cost $5 million. (All the White House would say is that it had 212 staffers on the trip.)
For most, the value of the summit was not in official declarations but in the encounters between people from different countries, who found they had one or two degrees of separation and were thrilled to compare notes for possible deals. Hillary Clinton, I was told, was very warmly received and a lot more animated when she spoke to a group of female entrepreneurs. It is worth noting that Latin America has five female heads of state: Brazil, Argentina, Costa Rica, Jamaica, and Trinidad and Tobago. By law in Colombia, 30 percent of all federal posts are filled by women. Men tell me Colombian women seem far more relaxed about their sex appeal on the job than U.S. women; bachelor Ravi Singh, a turbaned U.S. political consultant who oversees visuals for various Colombian ministries, was working the lobby outside the conference room. "As a U.S. guy, I find the Latina businesswomen elegant and stylish, and I enjoy buying them dinner, but they still come at you very hard in business. You feel like a guy, but they keep you thinking all the time—what's going to happen next?" Near him, former Washington, D.C., mayor Adrian Fenty—who is consulting for Rosetta Stone—was talking to a Venezuelan in the energy business. "I love the entrepreneurial energy of the people in business," Fenty said. "It's extremely modern, and until you get down here, you don't understand the level of development opportunities."
The Venezuelans were very worried about their country, naturally, and the possibility of a military takeover that could become bloody between warring service factions. Venezuela's controversial leader, Hugo Chávez, is suffering from cancer and has not designated a successor, and did not come to the summit—though his absence was the elephant in the room. Rumors were flying that his fragile health was less a factor than the possibility that if he did leave, he might not be allowed to return. His spokesman, however, said he had gone to Cuba for treatment. The Venezuelan election is October 7; "stay tuned," I was told over the weekend. "The generals are meeting Sunday."
By Sunday's close, there were no final summit declarations, because of a lack of consensus about Cuba. But to many, that seemed beside the point. "As a Colombian, I am very proud of the role Colombia is playing, coming out of decades of being a pariah," said billionaire Latin American McDonald's franchiser Woods Staton, who is the sixth largest employer in the region and has committed to creating 30,000 new jobs in the next five years. "When I heard Obama say we are partners, you start seeing how much more a relationship about equals it is becoming with Latin America."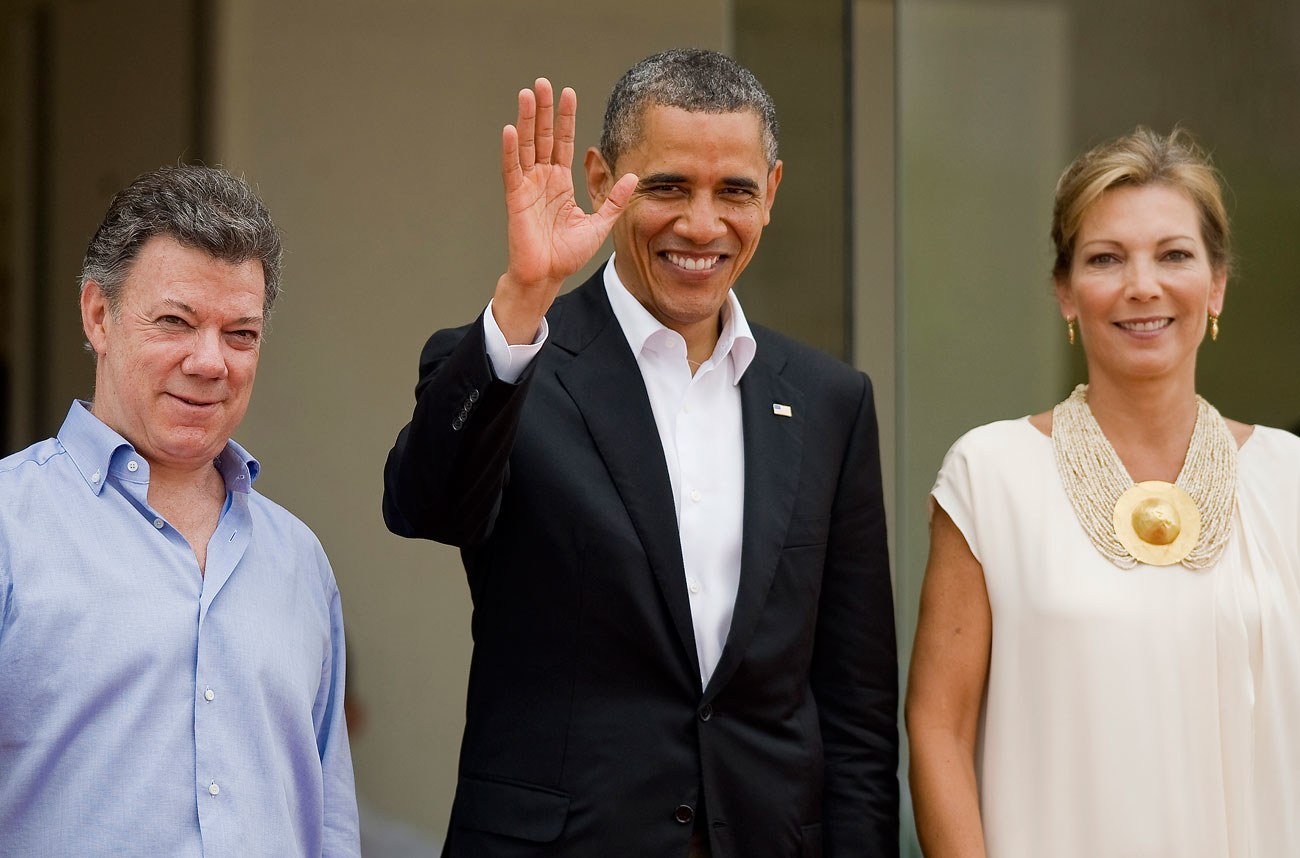 VF DAILY April 2012