I am covered head to toe in a long-sleeved shirt and pants, wearing heavy lace-up wading boots. My safari hat is fastened firmly under my chin, and a tubular bandana is pulled up to my eyes, which are covered by Polaroid lenses. It's only 8 a.m., but it feels like 110 degrees. I might as well be deployed to Afghanistan instead of standing on a 16-foot flatboard skiff floating atop a deep-blue Caribbean lagoon, trying my first cast of the day. Instead of a rifle, I'm packing a ten-weight fly rod.
I'm 30 miles off the coast of Belize, at Turneffe Flats, a haute-rustic fishing lodge perched on a coral reef offering 250 miles of beautiful protected waters and some of the best saltwater fly-fishing in the world. I've come on a lark after having had just one experience fly-fishing off the western tip of Nantucket and a single lesson on my front lawn in Washington, D.C. When my Nantucket fly-fishing pals—Linda Vollkommer, a college fencing coach, and Phyllis Burchell, a 79-year-old Nantucketer who holds an International Game Fish Association world record for catching a 26-pound permit fish with a fly off the Florida Keys—invited me to fish with them in Belize, I had no idea these were sacred waters. "Coming here to fly-fish after one lesson," Turneffe Flats co-owner Craig Hayes tells me, "is like taking one golf lesson and going straight to Pebble Beach to tee off."
I've never shied away from challenges—even when I probably should have. On my one previous fishing trip in Burchell's little boat, she put a rod in my hand and told me to cast, but I was so clumsy flinging the line that Vollkommer fell off the boat from laughing so hard. Still, I loved being out on the water and wanted the thrill of landing a big fish. When they told me they were planning this excursion to the holy grail fishing spot, I thought, What better place to learn? Plus, I wanted to get good enough to join Nantucket's annual Lingerie Fishing Tournament, where boatloads of female fisher-persons, clad in garter belts, teddies and, ahem, fishnet stockings, compete to see which boat catches the most fish.
So here I am on a late Saturday afternoon, a few hours after arriving by boat from Belize City, surrounded by a dozen seasoned anglers, listening to an orientation filled with language I don't understand: talk of how to set the line and how to land the prized tarpon and permit. I decide for the next six days to concentrate on bonefish, which average three to four pounds and aren't known for slacking.
Fly-fishing in salt water is considered more difficult than freshwater because it often requires casting into the wind and the use of heavier rods. Fortunately, our Belizean guides were excellent. I was assigned to a rookie specialist, the infinitely patient 30-year-old Mike Anderson, who sported a Bob Marley backpack and red buff. I tried not to be too self-conscious and just follow his simple directions on how and where to cast: "The fish are over there, at ten o'clock or at three o'clock," he'd say, pointing. If a fish didn't bite after five or six casts, he'd have me haul in my line to make sure the two tiny eyes of the fly were absolutely parallel, "or else they don't look real to fish." When my fly would miraculously land in front of a fish and I'd get a bite, which he often saw before I even felt, he'd remind me to "set" it—the hook, that is—in the fish's mouth by tugging on the line; then the fun would begin as I let the fish run in between spurts of pulling it in. For me, nothing beat the excitement of having a fish on the line and then getting to see what was at the end of it. Nevertheless, except on rare occasions, everything at Turneffe is catch and release.
Our days were long and incredibly hot; we hit the water each morning at 8 a.m. (each boat carried two people and a guide) with a simple packed lunch. Other than one half-hour break, we spent the day speeding over the water in a several-mile radius of the lodge until Anderson spied "nervous water," allegedly teeming with fish. By 4 p.m. we'd be back at the lodge, exhausted and ready to rip off our fishing clothes and jump into the infinity pool—or just sip a rum drink and watch the sun set from the wide porches of our beachside bungalows. After a hearty dinner, most of us were asleep by 9 p.m., except for the eight macho Brits who pick a different part of the world to fish in each year. They fished until midnight, throwing live bait over the dock to attract sharks and barracudas.
Over dinner, where fish stories were shared, the only thing everyone wanted to know but never dared ask was: How many did you catch? Instead people politely inquired, How was your day? It's bad form in these circles to question directly or brag, but I'll brag: I caught 25 bonefish and one baby barracuda with fierce-looking teeth. It was beginner's luck, along with Anderson's ability to find fishing holes, especially the one I nicknamed The Barrel. At first I tried to photograph every catch, but after a couple of days they all began to look alike. Obviously, Belize spoiled me.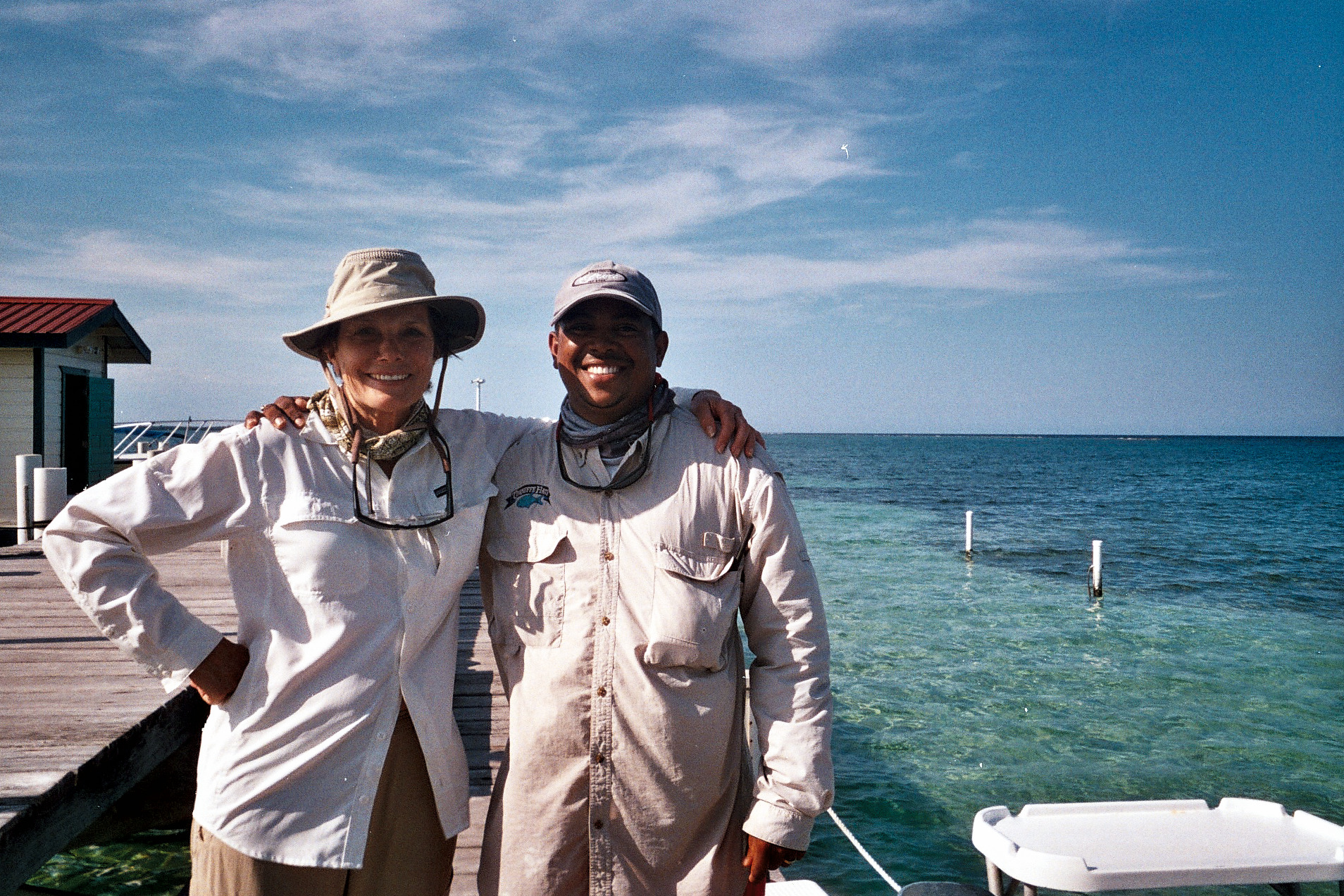 Original Publication: Departures Magazine, September 2012.