Washington, DC – March 24, 2018
The poignant homemade signs just kept flashing by me at the March For Our Lives yesterday. They showed real fear but total determination: "New three R's: Reading, Writing, Running for Your Lives; I want my kids to get A's, not PTSD; Columbine happened before I was born. When is Enough Enough?" One little boy was hoisted on his dad's shoulders. He held an green sign with a photo of two big dogs waiting at the living room window: "They wouldn't understand if I never came home." As my two friends and I waited for the rally to start, packed in tight about a block and a half down from the stage at third and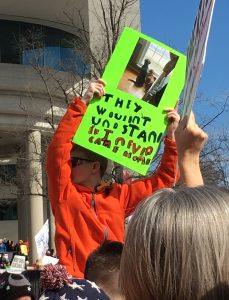 Pennsylvania Avenue, a beefy cameraman said, "Make way for some Parkland high school students." Then a group of solemn kids started filing past with a few adults—I recognized the face of a teacher I had seen interviewed on TV. Suddenly my friend Laura reached out and hugged one of the girls who whispered thank you and kept walking as tears streamed down her cheeks. It has been only five weeks since those seventeen students were gunned down at Marjory Stoneman Douglas High School in Parkland, Florida, and the students there decided grief would no longer stop be channeled into thoughts and prayers but action.
What an amazing thing these kids have wrought.
Veteran swamp dwellers like me see protests every day in the nation's capital. Yesterday felt very different. There was a real sense that a new generation was taking over and they had the tools and the savvy that might help break the debilitating gridlock that has paralyzed this capital since before Trump's inaugural.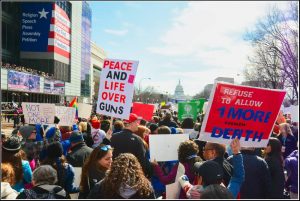 First, the rally was so well organized. It flowed with so much ease and refreshing lack of traditional political palaver. Red states and blue states did not matter; there were no politicians congratulating and shouting out to benefactors or each other. The crowd was polite and mellow. Each young person who spoke was passionate and eloquent. These young organizers had thought of the country as a whole—Chicago, South Central LA, Baltimore, DC, the longtime centers of gun violence were also given voice. The eleven-year-old Naomi Wadler speaking for black girls who never got heard and telling the crowd she knew there were people who thought she was incapable of these thoughts on her own, was far more moving than seeing a hundred celebrities onstage singing in unison. This rally was a raw cry to the country: do something about gun violence!
The most important takeaway I heard for there to be able real progress in gun safety laws, however, was the statistic quoted by Parkland student David Hogg—that only eighteen percent of students eligible to vote, voted in the midterm elections in 2014. Unless that number changes bigtime, there is no chance that the 250 members of Congress the speakers cited as still having said nothing about gun violence and the stranglehold the NRA has over members of both political parties, will be altered. At an after party co hosted by Giffords, the gun control organization founded in the wake of the tragic shooting of Congresswoman Gabby Giffords in 2011, along with prominent San Francisco angel investor Ron Conway, I met a number of the young Parkland speakers who told me they were absolutely committed to going forward with a major national voter registration effort for the 2018 midterms. If they are nearly as successful as they have been to gain the country's attention, that will be something to behold– but that is also much harder to achieve. Don't bet against them, however. I was tickled to have the formidable, tiny "call bs" Emma Gonzalez, basically grab my iphone from me and offer to take the selfie of us herself. Her mother told me that Emma had come home from the last frantic meetings the organizers were having before leaving Florida for Washington and apologized for not having taken the dishes out of the dishwasher. Her mother is tall and blonde and Emma looks much more like her Cuban dad, a lawyer. She is the youngest of three and representative of the diverse, wholesome, impressive all American group in the room that we had seen on the stage. "All we ever said we wanted was to raise good citizens who someone wanted to marry," Anthony Gonzalez, a lawyer, told me. Note to the Parkland parents: you have all already gone way beyond that.