Original Publication: Newsweek, April 25, 1976
Sarah is an international movie star who is a goddess to men and a mother figure to young actresses. She shelters and loves the actresses and also comforts a variety of the men – a pious young intellectual, a nonverbal German writer and an effeminate biologist who has been her close companion for sixteen years. Sarah is the heroine of a new French movie, "Lumière," and her story sounds suspiciously like that of the actress who plays her and who also happened to write and direct the film – Jeanne Moreau. "Lumière" opened in France a few weeks ago to rave reviews from the French cities and has become an instant hit on the Champs-Elysées. After a long career as one of the world's most magnetic screen personalities, the seductive Moreau, now 48, is tackling a new role behind the lens. As a director, she has joined a small but growing number of French women who have taken to directing their own films.
The French women directors, who number about a dozen and range in age from 62-year-old Marguerite Duras to 26-year-old newcomer Chatal Akerman, disagree about whether their films display a female sensibility. Nonetheless, their films all focus on women, their emotions and their relationships. Moreau's is the first box-office success. In "Lumière," Sara and three younger actresses are much closer to each other than they are to the men they sleep with. The point, says Moreau, is that women are freer to tell their feelings to each other than men are.
"Can you imagine two men talking together like the women in my film?" sha asks. "You show that on the screen and people will say, 'My God, they're homosexuals'."
Indecent: Moreau first wanted to become a director ten years ago when she was making a movie with Orson Wells. "The only difficulties I had in making the film were in myself," she says, dragging on a cigarette. "They were a result of my upbringing and education. Women my age were not taught that the world was open to them." Finally, three years ago, Moreau began taking notes on the film world around her. "It was as if I was doing something forbidden," she recalls. "It seemed indecent to express myself in writing." Now she's hoping to show "Lumière" at the Cannes Film Festival in May, attract an American distributor – and direct another film.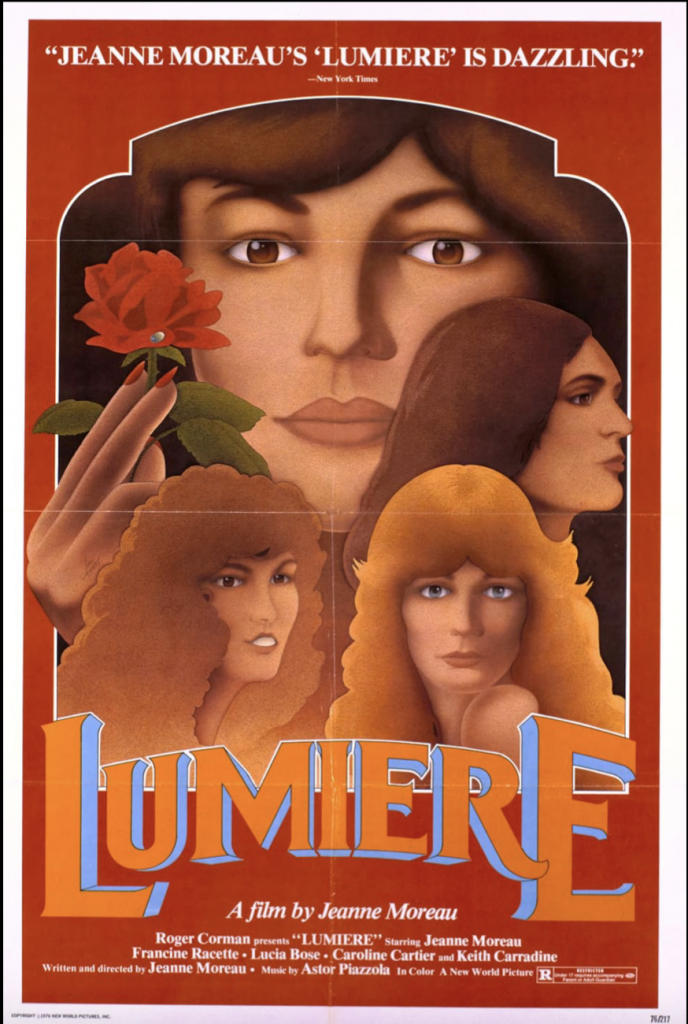 Moreau denies that her heroine, Sarah, is based on herself. (The actor who plays the biologist, the only permanent fixture in Sarah's life, bears a striking resemblance to designer Pierre Cardin, with whom Moreau has had a long romantic relationship.) "Some of the characters are a mixture of people who have been important to me," she shrugs.
When Jeanne Moreau discusses the meaning of her film, however, she almost gives herself away: "I am interested in the relationships and difficulties of reconciling ambitions – if you want to be an artist – with the needs of love." It sounds like the dilemma of brilliant femmes fatales throughout the ages – including La Moreau.
This article is typed from the original material.  Please excuse any errors that have escaped final proofreading.