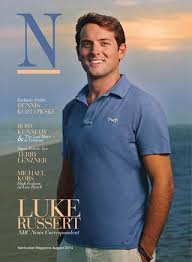 By MAUREEN ORTH
Five generations ago, Phil Grant's great-great-grandfather, James, a Scottish sailmaker who shipwrecked off Old Man Shoal twelve miles east of Wauwinet, made a grand entrance onto the shores of Nantucket. He had donned his kilt, floated on a hatch cover and then swam as the tide carried him to shore in full regalia. When he emerged from the water the Indians thought he was a god.
Four generations ago, Phil Grant's great-grandfather, Charles, was one of Nantucket's richest whaling captains whose wife went to sea with him and gave birth in the midst of an arduous around-the-world journey to Phil's grandfather, George, in Samoa in 1857. George also became a whaler.
Two generations ago, Phil's father, Arthur, a Coast Guard captain and bootlegger, made whiskey and rum runs on Nantucket Sound during Prohibition. Today, fifth generation Nantucketer Phil Grant is an alert ninety- six-year-old retired fisherman and carpenter who ran the first Nantucket Seafood market and clam bar on Old South Wharf before helping start and build the Miacomet Golf Course. These days he lives near the course with his wife of sixty-eight years, Peggy, and reads voraciously. He is one of the last living links to the great bygone whaling era of Nantucket.
My great-grandfather retired at age sixty-six; he had been a cabin boy since age twelve," Phil Grant says. His great-grandmother, having a mind of her own, did not like being left behind when her husband undertook voyages that lasted three or four years. "My great-grandmother, Nancy J. Weir, shipped on a merchant ship from New Bed- ford to Auckland, New Zealand, and she waited there for him because she knew his rotation," Phil recounts. "She was on harbor when he arrived. He must have been a surprised boy."
Of their three children who were all born and all grew up at sea, Phil's grandfather George was the baby. Captain Charles Grant's ship at the time was the Horacio. A 1989 issue of the Nantucket Historical Association Quarterly written by Phil's aunt, Nancy Grant Adams, recounts his grandfather George's birth in the hospital tent of the British consul in the port of Apia on the island of Upolu, Samoa. Three weeks later when it was time for the voyage to resume, the ship's log of November 17, 1857 reads, "All hands were employed in getting ready for the sea, getting off yams, bananas, wood, pigs and babies…" Baby Georgie was brought aboard by a native woman who had ceremoniously wrapped him in a banana leaf. "It was considered a good omen," Phil Grant says.
Phil's great-grandfather Charles, who once had a "mansion" on Orange Street, was a master whaler who was given a share of the profits of all his ships' bounties. Phil Grant grew up hearing about his great-grandfather's fortune won and lost. In her book, Fifty Famous Nantucketers, Paula Lundy Levy writes, "His record was 30,000 barrels of oil while as an officer and 22,000 barrels more as master, besides 12,000 pounds of whalebone and eighteen pounds of ambergris. In spite of the fortunes he made, Capt. Grant died a poor man. He was called the most charitable man who ever trod the deck of a ship."
"Kids used to wait for him at the top of Main Street because he would put his hands in his pockets, turn them inside out and the money would go flying," Phil says. "Or a sailor would come to him, 'Captain Grant I'm so and so,' and he would want to build a house. In those days it cost $600 to build a two story wood house and my great grandfather would say, 'You were a fine sailor,' and he'd reach in his pocket and wrote 'em a check for $600 and that's how he wound up broke."
The most precious and valuable part of the whale was the ambergris, the undigested material excreted by male sperm whales and used as a main ingredient for perfume. As a boy onboard his father's ship, Phil's grandfather once accidentally found amber- gris, often called "floating gold."
George Grant loved telling those childhood stories when he himself retired from whaling and was a founder and first Curator of the Nantucket Whaling Museum— Phil helped him make the museum's first sign. George Grant never became a captain but was a first mate who had the honor of harpooning the whale. As a little boy, Phil remembers his grandfather showing him how he almost sliced off his left big toe once onboard ship while cutting blubber with a long bladed flensing knife. He sewed it back on himself with a sail needle and packed it in Stock- holm (pine) tar. It healed.
Phil and his father were never close. After his parents divorced in the 1920s, he and his sister went to live with an aunt. He went to school on Orange Street and still remembers the names of most of his grammar school teachers, including a Bartlett and a Swain. He also caddied at Sankaty Head Golf Club where he was tipped $1 for eighteen holes. "Then the hard times came along, the (1929) crash," Phil says, "and all the cheap SOBs chipped us down to 85 cents."
After graduating from Nantucket High School where he took shop every year from eighth grade through high school—he had also learned how to carve whalebone and weave baskets—Phil became a commercial fisherman. Because his job of providing food was considered crucial during wartime, he says he was never drafted during World War II. But he enlisted in the Navy anyway and put his generational knowledge of the sea to work. Like his ancestors, Phil roamed the South Pacific for three years, mostly around the Philippines, piloting attack cargo ships filled with extremely dangerous explosives and weaponry. "I was offered a commission, I wouldn't take it," Phil says. "I had ensigns who couldn't write their own names but that's how it is in the navy—rank is everything." One day in August 1945, after making a beachhead and unloading cargo at a captured Japanese naval base, Phil and two buddies made an excursion twelve miles up- river to visit Hiroshima.
It was only days after the atomic bomb had been dropped there. "We walked all through it. Everything in con- crete was OK but everything else was completely gone." The Japanese had not yet surrendered. "The people completely ignored us as if we weren't there." On VJ Day, September 2, 1945, when the Japanese did surrender aboard the USS Missouri in Tokyo Bay, Phil's ship was along- side the Missouri.
After he came home, Phil married Ann Grande of East Boston, the sister-in-law of a friend and his pen pal throughout the war. For forty years they lived at 55 Cliff Road where they raised their two daughters, Ellen and Nancy. In 1952, in order to spend more time with his children, Phil gave up fishing and began the Nantucket Seafood fish store and clam bar until 1968 when Walter "Bud" Bieneke, an heir to the S&H green stamp fortune who Phil describes as "a spoiled kid from Sconset," bought the falling down old Nantucket wharf for almost nothing, because, Phil claims, the townsfolk were "too scrimey and grimey" to want to pay for its repair. Phil says Bieneke asked him what he would do with his property. "I drew him a two story building on apiece of fish wrap (calling for a restaurant upstairs and fish market at street level) and he said he'd take it to his architect." His design, he says, became the model for what is now the Anglers' Club and the store underneath. Bieneke had offered him the opportunity to have the design built "but he wanted ten percent of the gross," Phil says incredulously. "We could have kept two sets of books and been as crooked as a dog's hind leg." But he didn't and became a carpenter instead.
Peggy didn't like it much when he sold the house on Cliff Road in 1983 to buy the land to build their house near the Miacomet Golf Course. "She's a city girl." (Instead of paying $200 to be a founding member of Miacomet in the early '60s, Phil donated his work.) He hasn't played golf in a couple of years and no longer fishes but mostly stays home and reads, freely offering his pithy opinions and sharing his memories. He talks about taking divers on his boat to help locate the wreckage of the Italian luxury liner that sank off Nantucket in 1956, the Andrea Doria, or being caught at sea during storms with 20 foot waves. "What was the worst winter you ever remember?" I asked. "I never give weather much of a thought," Phil Grant answers. "We're used to it." His Aunt Eleanor lived to be 102. Longevity runs in the family and this flinty Yankee does not back down. "In Nantucket there is no such thing as a native anymore except me."
Written by Maureen Orth Original Publication: Nantucket Magazine, August 2014.